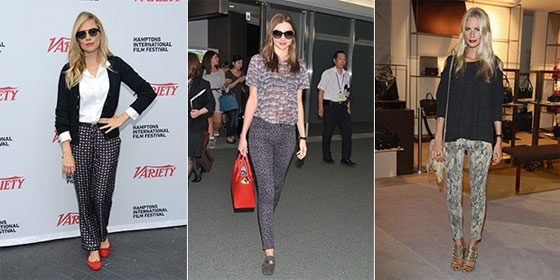 Style and fashion define our celebrities; latest celebrity style creates a saga to be followed by all. Hollywood stars, models, pop stars, sports stars all of them love to be in style and are highly fashionable and inspire all to dress up and flaunt different styles like them. The attires that they don, the footwear they carry, latest hairstyles to exclusive gadgets, everything is fashion when celebrities are concern; they are followed by one and all.
Celebrity style always sets a trend. From red carpet appearances to award show, casual bash to corporate event, live performance to private party, and our celebrities know exactly what is in vogue and elegantly carry every style grab eye balls. We know what they wear and what fashion mantra works for them. We have a guideshowing the milestones in celebrity fashion and what latest styles are in.
Female Celebrity style
Beyonce, singer loves to makes style statement both on and offstage. Her style is larger than life which makes her one of the most stylish celebrity in Hollywood. Her style mantra is funky and bright in both color and shapes.
Rihanna, young and energetic singer does not follow any trend but sets a trend herself according to her mood. From Babados beach babe to sultry cyborg, she is style setter and rule breaker.
Lady Gaga is pushing the boundaries of what is acceptable in fashion. She captures the attention of all fashion elites with her weird and fearless styles.
Angelina Jolie has been evidently flaunting various styles at different events, she is elegant and chic with long gowns at red carpets and extremely lovely in casual and funky looks.
Hairstyles being an essential aspect of fashion, celebrities have been found to carry very trendy hairstyles. From short pixie cut to side sling bungs, choppy layers to long curl everything constitute a part of our celebrity's experiments with fashion and style. Printed blazers, bright colourful shoes and accessories and latest gadgets have been found some of the style mantras for the celebrities.
Male Celebrity Style
Jhony Depp has been considered one of the most stylish celebrities. His ultimate fashion sense makes him stand out among all. Tattered Jeans, long boots, check scarves, hats and long coats constitute his style which is impressive.
George Clooney is not only handsome but also has a great dressing sense. He makes a simple suit "simply fantastic". This basic style quotient is formal suits and blazers.
Brad Pitt is a style icon in anything he wears, from work boots to tuxedo. Dressing up in a pair of dress pant and a blazer combo with a casual top is one his favorite styles.
Celebrity men not only wear outfits excellently well, but have some ultimate hairstyles to create that magic. Rugged hair and mild stubble, back-brush wet clean shaven lookhave always been favorite choice for them to suit every kind of garment. Shoes with various shapes and kinds compliment these men well. Exclusive watches and latest gadgets are a must have for these high profile celebrities.
Celebrity style is under constant vigilance and media scrutiny; hence they are striving to be updated. While fashion constantly changes, some celebrity style is immortal; little black dress and long flowing gowns are the ultimate style solution for women, a black suit with white shirt is the first choice of our celeb men.