Festival fashion is rapidly becoming a style trend all of its own. Celebrities spend their summers rocking up at the big high-profile festivals such as Coachella and Glastonbury, leaving the rest of us ogling their Instagram accounts in envy. The trouble is that festival wear is a tricky one to pull off because it very much depends on which festival you are plotting to attend. So what are the hottest festival trends this year and how can you adapt them to suit your own look?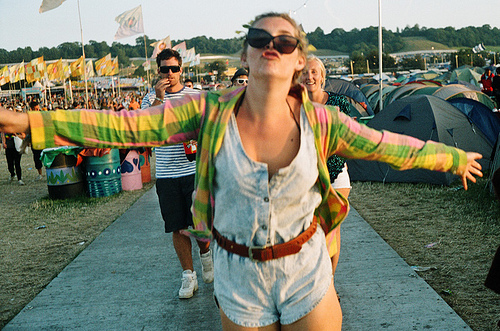 Photo by nat urazmetova
Dress for the Weather
Before you even think about shopping for festival clothes, check the weather forecast. Coachella is in the desert, so you can expect the weather to be hot and dry, but if you have tickets for Glastonbury, the weather could be very different and a pair of waterproof boots is advisable.
Go Designer
In days of old, festival fashion was cheap, cheerful and usually retro. These days, although you are likely to see plenty of retro hippy chick styles at summer festivals, celebrities and A-list stars have made designer festival gear ultra trendy. If you check out who's wearing what at big celebrity favorites such as Coachella, you will soon spot a number of styles straight from the catwalk. But don't worry if your budget won't stretch to the latest Chloe spring / summer collection, it is easy to emulate the style on a budget.
Hippy Chick
70s fashion is all the rage right now and a fashion conscious festival fan can't go too far wrong if she pulls on a fringed suede waistcoat, some bohemian printed florals, flares or a high-waist gypsy inspired top a la Kendall Jenner. Look at maxi skirts and don't forget to put some flowers in your hair.
Rocking Denim Shorts
Cut off denim shorts have been staple festival wear for a number of years now. Denim shorts can be worn with loose fitting white blouses and Jesus sandals for a hippy-chick look; alternatively, why not team your denim cut offs with a Stetson and corral boots if you want to dress like a cowgirl?
White All Night
White is this year's hottest festival color. You can't go too wrong if you wear white. White goes with everything and unless you are unlucky enough to spill a glass of red wine all down your front, white always looks fabulous, especially with a golden tan. Wear a white tank top with a cute pair of denim cut-off shorts or go designer with a cute white sun dress a la Rosie Huntington-Whitely.
Hats and Shades
Hats and designer shades are essential festival wear. Large, wide brimmed floppy hats look great when worn with a 70s outfit, but if you prefer to rock a pair of cowboy boots and some denim shorts, don a Stetson.
Festivals are one of the few occasions when you can wear pretty much anything you like and not stick out like a sore thumb. So if none of the above festival wear trends appeal, have fun creating your own festival look!