When it comes to planning for prom, there are many decisions to be made. Finding your dream dress is probably first on the list. Long or short? Romantic or modern? Fitted or full-skirted? See? There are lots of things to consider.
Once you've found the perfect dress, the next port of call will most likely be to plan what hair style you'd like to pair with it.
Hair can really make or break an outfit, and whilst hairdressers may be great for suggesting suitable hairstyles, they're often swamped during prom season and can tend to be in a rush.
And anyway, it's really more important for you to find the perfect hairstyle for you: one that you're comfortable with. The best way to do this is to do your research: search on Pinterest, browse wedding magazines, Google search celebrity red carpet hair, etc. Get a feel for the different styles that are out there, and your dream style will surely begin to materialize. There are so many styles to choose from, that you want to be sure you've found the right one for you.
Whilst considering a hairstyle, a great place to start would be to consider the neckline of your dress. So take a look at our recommendations below, and let the styling begin!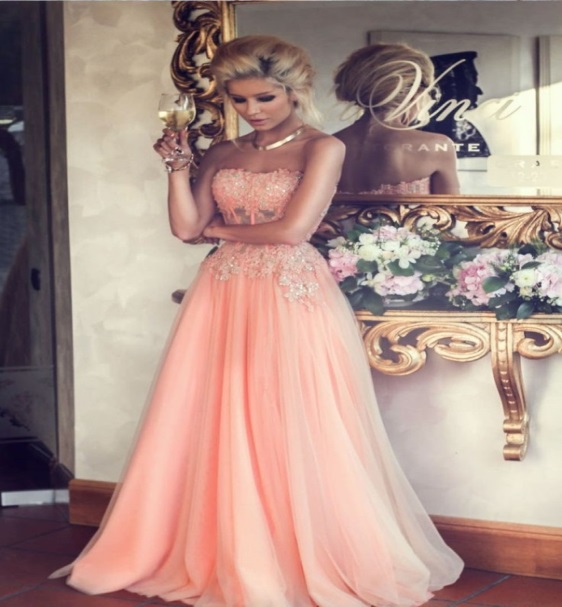 Strapless
If you're wearing a dress with a sweetheart neckline then your neck and décolletage will be fuss free. This means a long, full hair style will look beautiful and can add a touch of extra glamour to this style.
This is the dress for the girl who can't decide on a hairstyle until the very last minute, as any hair generally works with this style of dress and it won't take much planning.
Almost any hairstyle works with this type of dress, even an elegant up do can work to bring attention to shoulders and collarbone and creates a very dainty look.
For us, we would go for romantic soft curly hair styled down with one side over the front of the shoulder and one half behind. This way, the neckline is balanced and there won't be too much going on around your face.
Put on long earrings for a subtle glimpse of bling peeping through your hair, and skip the necklace.
We found a gorgeous and unusual selection of more modern, sleek bandeau dresses at thiswebsite, fyi!
V-neck
If your dress has a plunging neckline, you might want to think about leaving some of your hair down straight or with loose waves, and pull up the top section for a half-up style.
This graceful style won't leave you feeling too bare with hair all up off the neck and shoulders, though still provides a relaxed, classy and, most importantly, glamorous look.
Remember that if the shoulders of your dress are embellished, then having hair down could result in some tangled tendrils. If this is the case, push your hair back behind shoulders, or go for a loose, messy up do with hair falling around the face.
One-shoulder
One shoulder dresses can look sophisticated and elegant, and are perfect if you can't decide whether to go bandeau or strappy!
To balance out this look, opt for hair swept to the side over the shoulder. If your one strap is plain, this will bring attention to the shoulder left bare and look elegant.
If your strap is adorned or embellished, then you'll want to avoid having hair over this that may get tangled up. Also, by sweeping the hair over to the other side, you'll be able to show off that beautiful glitzy feature of the dress!
We would wear this look with some small teardrop earrings and avoid a necklace, as this will be lost in the one-sided style of the dress.
High neck
With a higher-necked dress, we would definitely go for a swept up hairstyle.
Most high neck dresses have some form of embellishment on the neck/shoulder area and therefore, generally, the less hair downs the better.
To avoid a cluttered and fussy look, pull your hair back off your shoulders and have it styled into an up do. (This also helps with the aforementioned tendril tangling!)
Depending on the style of your dress, you will want to opt for a sleek, simple or romantic updo.
More modern, streamlined dresses may suit a high, sleek hair-up, whilst a lace adorned or frilled prom dress might look best with a loosely curled elegant style.
Whilst the style of your prom dress is an important thing to take into consideration when deciding on a perfect hairstyle, it is also wise to think about other factors too.
For example, the texture of your hair may play a big part in your choice of ideal hairdo. Thinner haired people might shy away from up dos that require lots of volume and hair to achieve their fuller look.
Or, alternatively girls with thin hair could consider adding clip in extensions for the big day, a temporary fix to add some volume and thickness to get that 'big hair' style.
Girls with very curly hair might think about getting it blown out before attempting to style it in an intricate up do that would look best with a sleeker haired base.
Just remember, it is important to do some planning before the big day, but don't fret too much. Prepare your hair and consider all the elements that could affect your prom style to avoid be stressed on the day.
But the most important thing is to make sure you're comfortable and feel beautiful. Do what feels right to you, and enjoy your night!