Many of our favorite British models, singers, and actresses earn themselves extra credit by starring in hip ad campaigns for high end fashion houses. Even better? When they design a new line themselves! Here are five British beauties who are designing and modeling their own collections, starting this fall.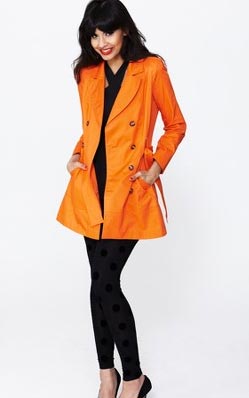 – Jameela Jamil for Very. The British TV presenter and model has created her own line of festival inspired clothing, JAM, for online retailer Very. She also models the collection, posing outside a silver Airstream camper in a sunny field. Jameela's hip style is apparent in the collection, which includes a host of funky fashions like printed tops and dresses, a fedora, several jackets, and even some glam evening apparel.
– Holly Willoughby for Very. Jameela isn't the only one modeling for Very: Willoughby, who famously tweeted a make-up free snap this summer, goes for the vampy secretary look in her newest Very campaign, right down to the red lipstick. While the blonde beauty is certainly very busy with her day job as a TV presenter she's hosted BBC One's 'The Voice' as well as a host of other celebrity TV shows she found plenty of time to create the fall/autumn line for Very, which includes everything from sexy hourglass dresses to shoes to jackets.
– Rosie Huntington-Whiteley for Autograph. She's already well known as the face of Marks & Spencer's lingerie line, but this is her first time as a designer and she models the collection, of course. Expect plenty of lace, silk, prints, and 1920s-inspired details the blonde bombshell is a big fan of vintage lingerie.
– Myleene Klass for Littlewoods. The sexy singer can now add fashion designer to her resume: she created a fashion line for Littlewoods consisting of jackets, knits, and luxe cocktail dresses. Oh, and she models them alongside a cheetah! Rowr.
– Victoria Beckham for Cutler & Gross. She's already achieved worldwide fame through multiple fashion labels, and now the former Spice Girl is adding eyewear designer to her resume. Short sighted herself, she decided that the best solution to a dearth of chic eyeglasses was her own collection of prescription lenses, set to debut in October with six frames and three colourways. She's already modeled a pair in the September issue of U.S. Glamour, so the line should be a sell-out.
Related posts: