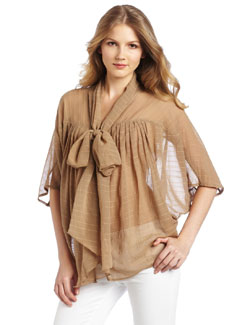 The change of seasons always brings with it a bevy of fun new fashion trends, and spring 2012 will be no exception. Here are some of the trends you can look forward to as the weather begins warming up; in fact, you can start wearing some of them now!
Color-blocking. Color-blocked dresses and separates in bold, look-at-me colors will be a major trend this spring. Remember: you can typically get away with wearing up to three bright colors at once, but any more will make you look like a candidate for the Fashion Crimes page in your favorite tabloid.
Bold florals. Some peppy blooms might be just the pick-me-up you're looking for after a long winter, and there are endless ways to wear them. A scarf, bag, or other accessory is an easy way to dip a toe into the trend. If you're feeling bolder, mix prints on separates, or try a boldly printed floral dress.
Safari prints. If you've still got any tribal pieces from previous seasons, you'll want to pull them out again. Geometric tribal patterns and fierce animal prints are all over, well, everything: shoes, bags, coats, scarves, dresses, blouses, even pants. What's different this year? Earthy colors meet decidedly urban silhouettes for a more updated take on the safari look.
'20s-inspired details. The flapper-style silhouette returns to the dress rack, but equally important are the small details on any article of clothing: feathers, beading, and sequins show up on apparel and accessories alike. Elegant colors make these pieces feel lady-like and dressy, not clubby.
Pastels. If these soft colors bring to mind Easter dresses and baby blankets, think again: this season, they're glammed up when placed next to metallics or punchy, brighter colors. Think sorbet orange next to hot pink, or pale yellow with electric blue. The mix keeps your outfit from looking too precious, and pairing the pastels with color instead of neutrals (like black or white) keeps the ensemble from appearing dated.