With the temperatures rising and a flood of bright spring fashion at your fingertips, it can be difficult to resign yourself to your regular dull office wear. After all, with options like floral flats, bright handbags and sheer blouses hanging in your closet, who wants to slip on a pencil skirt and sensible pumps?
The good news is there are tons of spring trends that you can easily wear to the office; the key is all in how you style them. Obviously the trends you can pull off will depend in part on how flexible your office dress code is, but some careful styling will help you pull off almost all of these looks in most environments.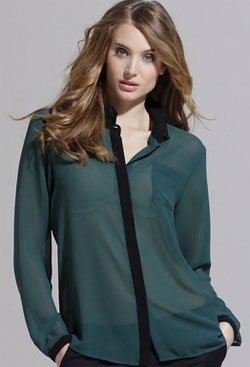 Look #1: The sheer blouse. Sheer garments are everywhere this spring, but they're obviously one of the trickiest looks you could hope to take to the office. Luckily, there are a couple of ways you can make a sheer blouse office appropriate and not risk exposing too much. The first is to wear a sheer top over a solid camisole. The second is to use it as a layering piece under a lightweight sweater, with just the collar showing. It's a delicate touch and won't leave you sweating before you punch out for the day.
Look #2: Bright colors. Nothing really says "spring" like bright, punchy hues of melon, yellow, mint and more. But if your office dress code leans toward more conservative shades of grey, beige, khaki and black, you can probably still sneak in a dose of feel good color via accessories, like an oversized cocktail ring, a bold handbag, or a cheerful pair of pumps or flats. If you aren't allowed to wear open-toed shoes to the office, this is also a good way to make up for the dearth of a poppy spring pedicure, by instead swapping in a punchy pair of shoes.
Look #3: Fashion-y sweatshirts. Seen on fashionistas like Miroslava Duma and Kate Bosworth, these pieces are great for warding off a spring chill without losing the fun, flirty vibe of springtime. If you're wondering how to make it work for the office, choose a fitted version and tuck it into a pencil skirt, then add ladylike jewelry and pumps.
Look #4: Prints. Spring is all about blooming floral prints, but it can be a bit scary to think about taking such a sweet staple into the professional world of your office. Luckily, designers are answering the need to mesh pretty and professional with items like structured floral blazers, pretty printed flats, and ladylike bags in subtle floral prints. Mix them in with your tailored work pieces and you'll be just fine.
Look #5: Showing lots of skin. There's almost no office dress code that approves of low necklines or short skirts, so what's a girl to do when temperatures rise and her favorite flirty separates start calling? Work with what you've got. A sleeveless sheath with wide straps should be office appropriate. In a more casual office, you might be able to rock a shorts suit. And if uncovering is absolutely not an option, you can at least select whisper-thin blouses in silk instead of heavier fabrics, and pair them with light skirts for a more spring-appropriate feel.
Related posts: