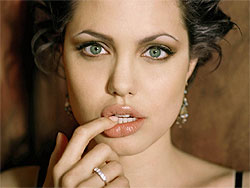 Angelina Jolie is celebrating her 36th birthday this week! Considering that her last name even means "pretty" in French, it's a given that we could all learn a few things about style and beauty by taking notes on Jolie's personal style evolution.
1. Don't be afraid to experiment with color. Jolie loves classic black, but early on in her career, she sometimes went a bit overboard embracing the Goth Girl look. But in the past few years, she's branched out quite a bit, walking the red carpet in stunning shades of red, navy, yellow, blush, and emerald.
2. Have a fallback! For those days when you just don't have a thing to wear, have a fallback outfit that makes you look and feel good. For Jolie, that often involves simples shift dresses or pants and t-shirts in basic black, often topped off with a simple, slouchy shoulder bag and a pair of aviator sunglasses.
3. Don't get too caught up in the trends. Jolie usually sticks to classic shapes and doesn't go for anything too flashy or trendy.
4. Figure out the makeup that works best for you. Jolie tends to highlight her sexy cat-eyes with a bit of black eyeliner and mascara, and finishes it off with pinky-nude lips and loose, soft hair. It's a trademark style that's flattering and versatile, and with a few tweaks moves easily from day to night.
5. Don't be afraid to change your hairdo. Changing her hair is one of the easiest ways for a woman to transform her entire image. Back before Angie became a major starlet, her long, too-black hair made her look more like Morticia than a movie star. A few years later, several inches shorter, and a few shades of brunette lighter, her hair looks shinier, healthier, and so much more flattering against her fair complexion. See? Change is good!