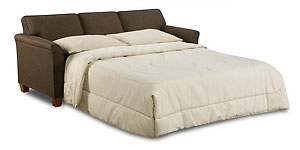 If you live in a studio apartment, a sofa bed is a great way to maximize your living space without sacrificing the comfort of a real bed. But you don't simply want to place a futon in the apartment and call it a day; you want to think about where and how you set up your sofa bed for maximum comfort and aesthetic value.
For starters, you'll want to select the plushest mattress available, since the standard mattress is typically rather thin and not very comfortable. Add to this a quality pair of sheets and good pillows; just because you're not sleeping on a 'real' bed doesn't mean you don't deserve all the luxury of one!
You'll want to think about the placement of your sofa bed so that you can relax and sleep with ease. Think about how you would place a standard bed in the room: would you prefer a corner? Away from the window? Keep these thoughts in mind when setting up your sofa bed. Otherwise, you may spend your first night restlessly rearranging furniture to get away from a drafty window, or moving the 'head' of the bed into a better position to watch TV while you doze off.
When the sofa bed is folded up, you'll want to think about adding some decorative pillows and a cozy throw to complete the transformation from bed to daytime sofa. Large, decorative boxes, slipped underneath the sofa bed, can conceal your bedding during the day time; storage ottomans are also excellent for hiding pillows and blankets, and many have lids that flip over to become trays, turning them into impromptu coffee tables.
Since the sofa bed will be such an integral part of the room, it's worth spending the extra time and money to choose a quality sofa that you'll love, and dress it up with the little extras that make more than just a dorm room futon. If you make it cozy enough, you might not even miss having a separate bed to sleep in!
Related posts: