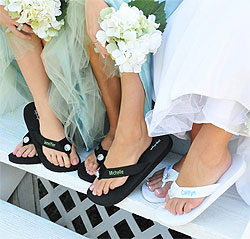 Unless you live in a climate that's summer-like all year 'round, the arrival of summer and warmer temperatures means a change in footwear. Here are four pairs to get you started, for every setting from the backyard to the office.
For running around town with girlfriends or attending a backyard barbecue, you'll want something comfortable and sturdy, but cuter than basic flip-flops. Wedges and espadrilles are a dressier alternative to flip-flops (and offer a little height if you want it!), but are still easier to walk in than stilettos, so you don't end your night limping. Charlotte Russe has a great pair of Nautical Knotted Rafia Wedges in a versatile neutral brown; $35.50, charlotterusse.com.
Summer being, of course, the unofficial wedding season, and a great time for outdoor weddings in nontraditional areas (say, on a beach), you'll want to have at least one pair of flat, dressy sandals that will look good with a casual/dressy outfit and won't sink into the sand. GoJane has a pair of Strappy Glitter Sandals (in gold or silver) for just $17.60 that would pair well with a variety of outfits.
At the office, open-toed sandals might not be an option, but if the nicer weather means you're heading outside for a lunchtime stroll, and you don't want to pack a pair of sneakers along with your pumps, consider a pair of bright, cute flats that would pair well with skirts or pants. A pair to try: the Sienna Ribbon Flat from Silvia Tcherassi for Payless; $44.99, payless.com.
And finally, when you're at the beach and want nothing more than a cheap, colorful pair of flip-flops, head over to Old Navy, where their Women's Classic Flip-Flops come in a whopping 18 colors. At $3.50 apiece, you could have a different color for every day of the week!
Related posts: