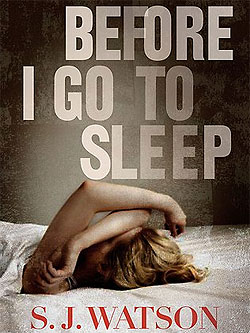 The dog days of August are just around the corner, when it becomes difficult to do anything but crash in the hammock with a cold drink. While you're there, pick up one of these four thrillers, all new this summer.
"Before I Go to Sleep", by S.J. Watson. This new thriller centers around an average woman named Christine, who wakes up on a daily basis with no memory of who or where she is. Her husband continually reintroduces her to her life, but when Christine begins seeing a psychologist and writing in a journal, she begins to realize that what she's being told isn't quite adding up.
"The Snowman", by Jo Nesbo. This chilly Norwegian novel centers around a young boy who awakens to find that a snowman has suddenly appeared in his front yard, and it's wearing a scarf that belongs to his mother… who is now mysteriously missing. Enter hardened detective Harry Hole, who must now track down a gruesome serial killer. It's the seventh entry in the series, but sadly, fans will find that not all of the other six books have been translated into English.
"The Jefferson Key", by Steve Berry. After expatriate Cotton Malone foils an assassination attempt on the President of the United States, he uncovers a coded clause in the Constitution that is somehow connected to a secret society called "the Commonwealth" and a string of pervious assassinations. Great for readers who enjoy plots with a historical backdrop.
"The Man in the Rockefeller Suit", by Mark Seal. Looks can be deceiving, as evidenced by the thirty years that one German con man spent successfully posing as a member of the wealthy Rockefeller clan, ending only in 2008 when he was arrested for kidnapping his daughter. This true-crime tale is a cautionary page-turner, tracing one of the longest-running cons in recent history.