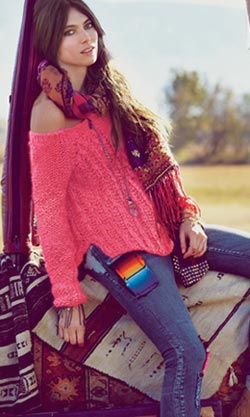 Urban Outfitters is one of the country's best-loved High Street stores, offering a unique and edgy mix of luxurious and boho pieces and eclectic accessories. Now, their sister brand is coming to the UK for the first time ever and is set to make a huge splash on High Street.
The hip American clothing brand Free People will cross the pond for the first time ever this autumn, and is already generating buzz in the UK. Free People brands itself as aimed directly at twenty-something women who express themselves through art, fashion, music and travel.
It's appropriate, then, that the brand has some high-profile celebrity fans. German supermodel Heidi Klum has been photographed wearing the brand's denim flared jeans, while American singer/actress Vanessa Hudgens was spotted in the brand's Andee Platform Buckle Boots.
Free People offers a mix of looks and features a new unique collection every month, so it's the perfect brands for Britons who pride themselves on staying up-to-date with the very latest and greatest fashion trends. Like Urban Outfitters and Anthropologie, Free People offers spirited styles like chunky knit sweaters, bohemian dresses, leather belts, and funky footwear. The brand also offers jewelry and vegan leather goods and a variety of one-of-a-kind handpicked vintage items, ranging from military jackets to lacy blouses to patterned floral dresses.
Models Karlie Kloss and Aline Weber are the supermodels showcasing the latest collection and appear in Free People's fall promotional photos.
If you simply can't wait for the Free People store to open here in Britain, you can always shop through their website, freepeople.com. While you're there, read their Bldg 25 Blog, or sign up to follow them on Facebook, Twitter, or Pinterest. And start making your wishlist for the autumn store opening!