Marriages are made in heaven!
It is indeed, very apt to say that "Marriages are made in Heaven!" This is a beautiful world where we live only once and so must try and make it more beautiful and wonderful with loads of sweet memories that we can carry on till the end of our lives! Wedding is the most beautiful part of everyone's life and for the person who wishes to tie the knot and make a commitment for life, would definitely make it a day filled with happiness, love and peace. With families and friends around, it would be indeed the celebration of two lives that are coming together as one! As with any other celebrations, marriages too need a lot of planning and preparations as the bride and groom slowly inch towards the most beautiful and memorable day of their lives! They prepare the list of guests in advance so that they don't miss any of their family members, friends, relatives and colleagues on that day.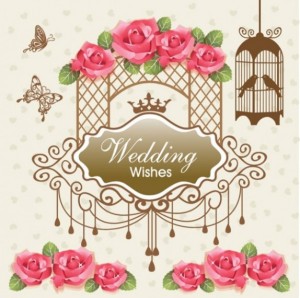 Wedding Invitations:
            For a pair who is getting married, a wedding invitation is as beautiful as the day itself. They spend too much of their time and effort in deciding on the perfect invitation card that they must start sending to their invitees. As they would like to make their wedding the most memorable day of their lives, they will leave no stone in making it a perfect get-together. There are so many wedding card templates available in printing shops, retails as well as online. The 983invitation.com provides with a wide range of beautiful free card templates which one can choose depending on the occasion. They have templates for Asian and Chinese weddings, Theme based wedding templates like florals and cartoons, location based weddings like beach or casino weddings, seasonal wedding themes like a winter wedding, fall wedding or a summer wedding and so on!
How to make it?
            With so many options available to choose the perfect template, one can download and edit the template and print it after keying in the details required. The choice of the printing paper is left to the individual and sky is the limit when it comes to decorating it any which way. This way, one can save a lot on the money, time and energy that is needed in hunting around for that perfect invitation card. There are many ways by which the invitation card can be made beautiful, appealing as well as unique.
Save for the future:
            Printing invitation cards is the first and foremost part of a wedding and hence it must be made beautiful and preserved for a long time as a great memorabilia! Printing cards do involve a lot of your precious time, energy as well as money. One can choose to get it printed from shops or choose a free wedding card template online, download it, customize it and print it accordingly. The 983invitation.com offers many free wedding card templatesonline and the choice of making your own card is humongous. Make your own free wedding card and save your precious and hard-earned money for the future!