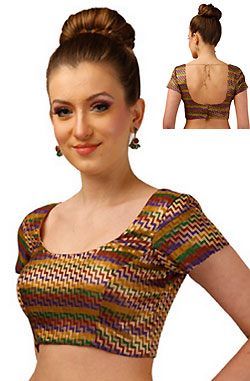 The current generation feels more at ease in western outfits and this style of clothing actually rules the wardrobes of the majority of the Indian females. On the other hand, when they need to attend a wedding ceremony and in festivals, they find that nothing looks more elegant and beautiful than a saree. It gives an extraordinarily Indianised appearance to every women along with traditional values and norms. Sarees are considered as the most wonderful clothing for every woman. Apart from that, it also gives a woman an opportunity to show off their accessories which they cannot wear with any other outfit.
With the change in the fashion, the saree blouse designs also keeps on changing. A lot of designs and patterns are accessible in saree blouses such as low wide neck, halter neck, tie-ups, big bow back, spaghetti strap blouses, single shoulder, puff style and many more. The color and fabric of the saree must be selected keeping in mind your height, physique and skin tone. Moreover, the exquisiteness and elegance of sarees depends a lot on one more factor, the design of the blouse. This is the reason why majority of the women single their blouses with greatest care and concern. An incorrect design of a blouse can obliterate the reflection of a wonderful Indian saree and your hard efforts to look good-looking goes in vain.
Similar to sarees, the saree blouse designs must be preferred so that it looks beautiful on women who have well-toned curves and slim bodies. The above mentioned designs of blouses do not look nice on chubby women. Now, here we will discuss about different designs of saree blouses that suit different body physique and heights:
Circular as well as square shaped neck blouses look extremely graceful and elegant on women with good height. Whereas women of short height must go oval and rectangular shape of neck blouses.
The V-neck shape blouses are considered to be most excellent choice for women with thick and short necks. This shape of a neck design makes women look slimmer. However, plus size females must opt for blouses with longer sleeves as it gives a very traditional look and goes quite well with every kind of a saree.
The collar blouses look superb on women with long and thin necks. Females with very long necks must avoid V-shaped as well as U-shaped neck designs.
Halter necks are too much in demand these days. Women are going crazy for halter neck blouses as they even see actresses wearing the same style. Ladies who are bold and courageous to carry such designs of blouses must only opt for this.
There are so many varieties you have in saree blouse designs. What you need to do is just to pick the loveliest piece for yourself that would suit your figure. Always select that style and design of blouse that suits you the best and is most comfortable to wear. Every woman is gorgeous, but the most stunning look is no doubt the confident look.