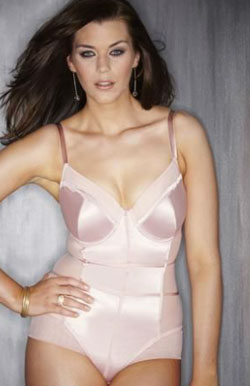 Sometimes it's not just what you're wearing on top that matters – your underwear can also make a big difference when you're trying to achieve a slimmer silhouette! With summer on the way, this might be just the time to take another look at your underwear drawer and consider whether slimming ladies shapewear could complement your changing wardrobe – especially as coats, boots and jumpers give way to lighter dresses, shorts and sandals.
So, how do you match summer outerwear with summer underwear? If you're going with casual T-shirts, it's no surprise that your best bet is a T-shirt bra. These are made to give a smooth, subtle lift while remaining nearly invisible. Alternatively, if you're opting for figure-hugging dresses this summer, figure-slimming lingerie helps to flatter your figure while still keeping your curves in all the right places! A tankee is the best underwear to choose for a breezy summer dress, helping to tame your tummy without being too restricting.
Camisoles are another great summer option that often come with their own shelf bras sewn in, removing the need to wear your own underneath. If you're pairing them with a short skirt or shorts but want to keep your bum in check, a pair of boy shorts is just the thing. These enhance your figure invisibly, while still allowing your curvy hips to show through.
Once you've got figure-slimming underwear taken care of, you'll find you feel much more free when picking out clothes from the rack! This summer, Aztec prints, tropical florals and animal designs are all undoubtedly in vogue, and colours are just getting brighter and bolder. Don't hold back – splash out on the vivid hues that'll make you stand out from the crowd. Look out for anything lacy or meshy – as well as being fabulously on-trend, these will help you keep your cool as the temperatures soar!
Related posts: