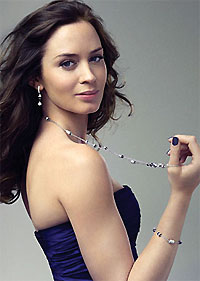 The Devil Wears Prada star Emily Blunt seems to be on her way becoming a method actor as she always looks for new dialects and uses them in her films. "I've always loved mimicking people and picking up on voices. I try to change mine for every part I play. I find it helpful and transporting in some way.
I'm surrounded by Americans all the time, so if you keep your ears open, you can pick up voices all the time. It's more of an attitude, rather than an accent," Blunt said.
The 26-year-old actress also spoke about how much of a "real find" playing Queen Victoria in The Young Victoria was, Female First online reported. "She was a really rich character. She was complex and under duress and that's always interesting to play, a character who needs to make choices and is fighting against something.
"She's in love for the first time, and I loved that about the script, that it was really more about an intimate portrait of a young girl rather than a monarch. It's really about a dysfunctional family," Blunt said about her character.
Related posts: