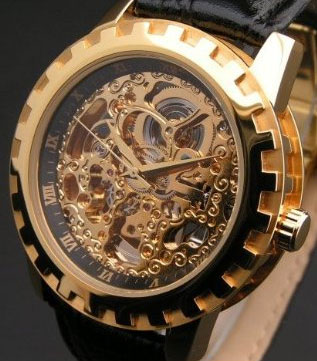 Need a gift idea for a special man in your life? Every man needs a classy watch to accessorize business, special occasion, and everyday attire. The Eric Edelhausen 'Dorado' skeleton watch is just such a classy piece that's certain to attract attention whenever your man wears it.
The gold plated steel skeleton model comes with a black leather band that features a deployment buckle and is suitable for wrists up to eight inches. The analog dial features a black rim with Roman Numerals. With an automatic self winding mechanism, there's no need to worry about batteries or a stopped watch ever again.
The watch is water resistant to thirty meters and is covered by a one year manufacturer warranty. The watch comes in a wooden gift box with a warranty card and travel pouch.
Retailing at $569 but currently selling for about $200, this watch is an excellent steal. The sheer elegance of the watch makes it look like a much more expensive time piece and is sure to attract attention and admiration for the wearer. Some watches are purely functional and others are look at me conversation starters; the Dorado is a little of both!
This type of watch would be perfect for a man who works in a professional environment and wants a time piece with loads of upper crust style. This watch would look just fine with every day business apparel, but it could also pair nicely with a suit for any evening occasion or big business presentation.
Customers who purchase the Dorado watch use words like "beautiful", "must-have", and "luxury" to describe it. If you're a man who likes luxe looking jewelry and watches, or if there's a man in your life in need of a luxe time piece, then you can't go wrong with a distinctive watch like the Dorado.
If you like wearing rings / cufflinks and other accessories, visit Stephen Einhorn for an awesome collection of Mens Rings & Jewellery