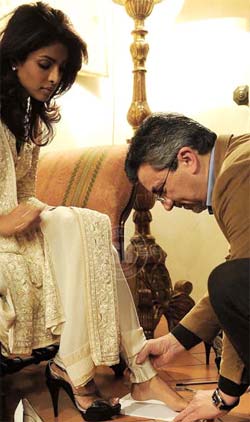 Priyanka Chopra is back from Italy after casting her foot impression at the Salvatore Ferragamo museum in Florence. She is the first Bollywood actress and the second Indian to win the honor.
Fifty years ago the maharani of Cooch Behar, West Bengal, had her shoe last at the museum. The maharani's customized pair, a jeweled sandal, happened to be Priyanka's favorite too.
Describing her experience as nothing less than "amazing", the actress says, "Leonardo Ferragamo (Director, Ferragamo museum) took me on a tour of the museum… It was interesting to see some beautiful shoes on display that were created as far back as 80 years ago."
The place boasts of shoe last of actresses like Audrey Hepburn, Marilyn Monroe, Sophia Loren, Madonna and Drew Barrymore. So whose feet comes closest to Priyanka's? "Well, I think my shoe last resembled that of Madonna and Marilyn Monroe."
While her shoe made all the right noises, her Indian outfits too didn't go unnoticed. Talking about her look, Priyanka says, "Indian designs ruled this trip. I wore a beautiful embroidered Abu-Sandeep outfit to the museum." Later, she wore a Manish Malhotra sari to a dinner party. The Indian designs were loved by all and many were "bowled over by the sheer beauty of these outfits."
Article in HT City by Itee Dewan.
Related posts: