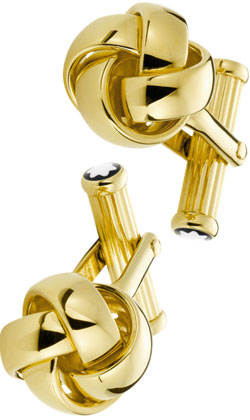 Cufflinks: they are the subtle touch that elevate a fine suit and wordlessly define your look as a man. They show that you go the extra mile for style, appreciate detail and, in the truest sense of the word, are a gentleman. Yet how do you choose which ones to buy and when to wear them? Below, we provide a guide / tips to consider when making such decisions.
What kind of shirt requires cufflinks? Cufflinks are intended for dress shirts with French (or double) cuffs. This means that the sleeves are extra long and without buttons to hold the folded fabric back. The cuff's crease should be crisp and even, and the decoration should be facing outward rather than inward. Though such a practice was traditionally frowned down upon, younger men are now wearing cufflinks without the suit jacket in order to keep their look both sophisticated and comfortable.
When choosing your cufflinks, take into account what other accessories you own; if you tend to favor your silver watch and silver tie clip, then buy silver cufflinks. While the rule of "no mixing metals" is, by no means, universal, the consistency will tie the entire outfit together while an assortment runs the risk of visually clashing.
Never buy plastic or cheap cufflinks, as this contradicts their entire purpose; they accentuate class and shoddily constructed pieces will backfire and make you look tasteless. On a similar note, avoid anything that is clever or worse, cute. This means no sports team logos, no Iron Man masks, no beer bottles and marijuana leaves, no cars and, for God's sake, nothing potentially offensive. Instead, choose a design that is simple, elegant, and appropriate for the environment.
You can't go wrong with smooth shapes and textures, restrained splashes of color with precious stones and, for something personal, engraved cufflinks. When striving for a more casual attire, go with the silk knot (otherwise known as the monkey fist). This style is a piece of material (more often than not, a material besides silk) that is tied to have two knots at opposing ends that hold the sleeve in place. They come in a variety of colors that can be matched with a tie or shirt.
So take the leap and buy yourself a pair or two. They will impress both your gentleman and the ladies, and will effortlessly elevate your look from ordinary to stylish. And remember, cufflinks make a great present for the men in your life, whether you are giving them to your father for Christmas or as a groomsman gift.