Do you want to work out and look amazing while you do it? Then you need to get your outfits just right. Gym fashion is a real thing, and it's becoming more and more popular. People aren't wearing their oldest, most worn clothes anymore; they're wearing high quality, designer items to get all sweaty in. If gym fashion isn't something you're sure about, have a read through this to get it right:
Color Co-ordinate
I love to color co-ordinate in the gym. It's easier than ever now too, especially with all of the clothes coming out in multiple colors. If you stick to a similar color scheme each time you buy clothes, you should be able to mix and match things to your heart's content! I pick a lot of gym clothes that contain blue, black, green, and purple – but I know that the odd color can just be used as a 'clashing' piece, so it's no problem! In general, outfits that match up, even if the brands don't match up, look best.
Include Brights and Patterns
I love wearing brights and patterns in the gym. I think you can get away with wearing stuff in the gym that you wouldn't wear anywhere else. I am constantly wearing loud leggings; rainbow patterns, geometric patterns, the lot! I can't understand why anybody would go the gym and not wear funky colors and patterns. Make the most of the opportunity to experiment!
Wear Practical Clothing
Although you want to look put together and funky, you should also make sure the clothing you're wearing is practical. It needs to suit the kind of workout you're doing. If it doesn't, you could get injured! Your shoes are one of the most important aspects of your training; I usually opt for a good pair of Reebok shoes to accommodate my varied workouts. If I'm weightlifting, I make sure I don't wear anything baggy that could get loose or come down. For yoga, I can afford to wear more comfortable clothing. It all depends on the training you do!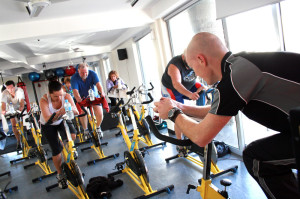 Make Sure You're Comfortable
You must be comfortable in the gym. You'll only get distracted from your workout if your shoes hurt your feet or your shorts are a little too short. Make sure you're totally comfortable before leaving the house! Even a pair of good socks can make a difference.
Suit Your Shape
I always find it helps to pick an outfit that suits my shape. There are lots of different body types, and something that suits me might not suit you. I make sure the choices I make enhance my good parts and don't draw attention to the parts I'm self conscious about.
Have Fun
Finally, have fun with your gym fashion! If you get it wrong one day, who cares – it's only the gym! You're only going to get sweaty anyway! It's pretty hard to get it 'wrong' when it comes to gym fashion, so just aim to have fun with your choices. I love how my outfits make for colorful Instagram pictures. Enjoy!