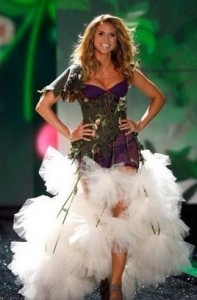 German supermodel Heidi Klum has returned to the runway just five weeks after giving birth to her fourth child.
Klum left baby daughter Lou with singer husband Seal to slip into a purple corset for the lingerie brand Victoria's Secret show
Sharing the secret of her perfect figure, Klum said dropping pounds comes easily to her. 'I don't have to do too much. I do eat very healthy and I drink lots of water and I breastfeed. This keeps me very active and healthy,' said Klum
What made her walk the ramp for the Victoria's Secret show? According to a magazine, her decision was impulsive. The night according to her was perfect and she had tried on the costume and for Heidi, there was no looking back.
Ever since a friend persuaded Heidi to take part in a modeling contest, in which she became the winner, Heidi has been a pet on the ramp. She was on the covers of various magazines including Elle, Vogue and Marie Claire before scorching the cover of the Sports Illustrated Swimsuit Issue.
Heidi has made her presence felt in a couple of TV shows and movies before she became the judge for a reality show.
Heidi the artist has several pictures to her credit. She is not just a model. She is a designer too.
Being a mother has not stopped her from walking the ramps, and if her presence at the recent show was an indication, she is all set to do it again!