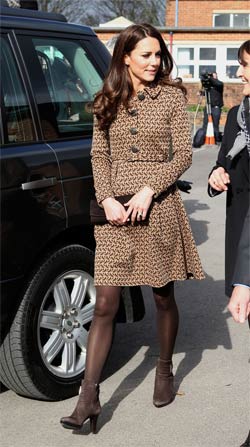 Much has been made of Duchess Catherine and her flair for mixing high street purchases with designer duds. But let's say you're not a princess with an unlimited budget, but rather a commoner looking to make the most of her fashion dollars while remaining impeccably stylish. How do you know when to save and when to splurge?
Splurge if…
– It's a classic that will last a lifetime. An excellent example is the Burberry trench, a wardrobe staple that will never go out of style and can top off any number of looks from work to a date to a semi-formal occasion.
– The per use cost is low. A $300 handbag sounds expensive, but if you carry it every single day, your per-use cost over the course of a year is less than $1. On the other hand, a $300 clutch that you carry once or twice for special occasions has a very high per-use cost.
– The quality is important. Leather riding boots, wool coats, and other carefully crafted goods are worth extra money because you're paying for good craftsmanship.
– It's for a big event. An occasion like a wedding merits a bit of a splurge; you'll only do it once! So when it's a big purchase and you've really earned it, whether for a special occasion or as a reward for reaching a personal life goal, don't feel guilty about treating yourself.
Save if…
– It's super trendy. Remember when everyone was wearing neon leopard? No? You're not alone! Super trendy items fade out quick and no one really remembers them or why they were so hot in the first place.
– You're not sure you'll love it. Want to try something new, like a peplum top or colored jeans? Dip a toe in with a less expensive piece. You can splurge later if you love it.
– It's a dupe. Guess what? Great high street dupes for more expensive products do exist, so if you find one, there's no reason to buy the designer dud just for the fancy name on the label.