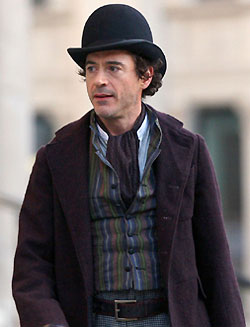 Hollywood superstar Robert Downey Jr wants to visit India, but not with a motive to make a film here which seems to be the buzz word for Hollywood now. "I would love to visit India, maybe go trekking on the mountain ranges of Himalayas," says the latest Sherlock Holmes. He has also "heard about the Indian film industry". "I have watched a couple of Indian films but am really sorry I don't remember the actors' name," says Downey Jr.
The Iron Man-actor has also seen the multiple Oscar-winner Slumdog Millionaire. "I think it was a fantastic film," he says. Depicting one of the most loved and respected characters in the world of literature in never an easy task. So what did he find the challenging? "This is how sick I am. I don't think there's anything that could be too challenging for me or even most challenging," says Downey Jr. " I have an illness of confidence." Downey Jr feels that it was the strong script that did most of the job. "Honestly, we had a strong script; rather, we had a really strong structure, and therein it was really up to us how far we wanted to exploreand how exhaustingly we wanted to do rewrites and all that other stuff," he says.
And what about his association best-man Watson Jude Law. "We were pursuing Jude, and, understandably, he was cautiously optimistic. I asked him to come over to…and we hit it on from there.
Related posts: