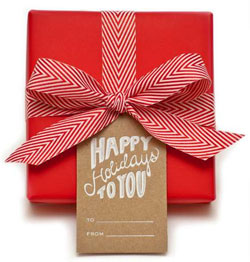 You might think that shopping for the fashion-forward woman is hard. After all, she seems like she has everything she wants, she has strong ideas of what style is, and what if you give her something that she doesn't like or doesn't think is stylish? It's never tacky to give a gift receipt with an item you've purchased, but if you give the right gift, you won't need a gift receipt. What is the right gift, you ask? This Holiday Season, it's all about giving accessories.
Don't: Buy Basics
Buying basics for the fashion-forward woman –such as sweaters, jeans, blouses, etc- could be tricky because you need to know exactly what size she is and you need to buy something neutral enough that it goes with everything, but not so neutral that she doesn't like it. If you give an article of clothing, give a gift receipt with it.
Do: Buy Accessories for Basics
Chances are that your fashion-forward woman has all the clothes she needs, but with accessories for basics, she can dress up those clothes into a new look. The best gift, here, is a scarf. Not only are scarves very popular in today's fashion, but you can buy scarves in all colors, in all styles, in all sizes. The chances of a woman returning a scarf are very slim –unless she already has it. Other great accessories include hats, belts (be careful here), and sunglasses.
Don't: Buy Chunky or Cheap Jewelry
The trend this year is to layer accessories. Bracelets, necklaces, and rings look great when combined with other bracelets, necklaces, and rings. But thinner is better, so don't buy chunky or cheap jewelry. The fashion-forward woman won't get much use out of something chunky and cheap, and she may even return it.
Do: Buy Sets of Jewelry
If you want to help your fashion-forward woman pair up bracelets or necklaces, buy her sets of jewelry for Christmas. You can buy her 2-4 necklaces that look great together, preferably different lengths and styles. For example, you can pair a diamond necklace with a pearl necklace and a chain with a unique pendant.
Don't: Buy Appliances or Furniture
The last thing a woman wants for Christmas is a reminder of work. To that end, don't buy her a blender, a coffee maker, or a juicer –even if it's going to save her time in the kitchen. Don't give her furniture unless she's asked for it. Otherwise, she'll have to move everything around to make room for it. The best thing to remember for Holiday gift-giving is to give something that the other person wants more than they functionally need.
Do: Buy Accessories for the Kitchen or the Home
Dishes are like works of art for the kitchen, and framed art can dress up a wall. Dishes and art are great accessories to purchase for the Holiday season because they can add fresh design and style to your fashion-forward woman.
Related posts: