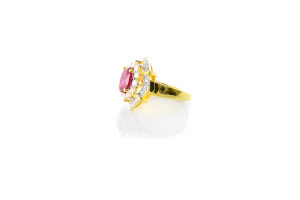 Fashion and styling is all about what looks good on you and highlighting your best features. Accessorizing your basic wardrobe with jewelry can add that extra flair which takes your look from bland to sensational. Jewelry is what allows you to create your own personal style and can have special meaning to the owner/wearer. You don't necessarily have to wear a dress every time you want to wear some jewelry. It is just about having the right sense of what to wear with different kind of clothes. Jewelry even helps dress up your basic t-shirt and jeans look, if you know what goes with that look best. So what jewelry should you wear? Here are a few tips on how to improve your outfit by wearing the right kind of jewelry.
Jewelry and Your Body Type
The first thing you should consider is your overall body size. Your jewelry should complement your body proportions. Petite and small sized women should go for smaller rings and earrings while women who are taller and larger in proportion can pull off bold and oversized jewelry as well.
Soft colors like grays, pinks and delicate stone necklaces will highlight your neckline. Long necklaces with a single pendant are usually worn to accessorize simple tops and tee shirts that you wear casually. Long necklaces also make a person appear taller so here's a chance for all the short women to give the perception to others of looking taller. On the other hand, short neckline necklaces like chokers suit tall women better as they make a person appear a bit shorter. You can also go big at times with high volume, chunky bohemian-type necklaces if it suits your personality and is appropriate for the occasion. However, if you are petite then you might want to look for something that is more delicate as chucky necklaces will not suit your body type.
Bracelets also accentuate one's look. While working or talking, you want something on your bare hands which will also complements your face and style. For bracelets and bangles, you should always consider the size of your wrist. According to Houston Gold Exchange (www.houstongoldexchange.com), large beady bracelets only suit those who have an average or big sized wrist. If you have a thin wrist then you should choose something thin and delicate.
Earrings and Rings
If you aren't too big on wearing jewelry then the only accessory you need are earrings. Whether you choose oversized or statement earrings, they can make you look classy and sophisticated.
On the other hand, rings can enhance the beauty of your fingers and uplift your mood. Whether you are typing away at work or attending a party, your glance will often fall on your ring and brighten you up. This will make you feel good about yourself and your look.
What Should You Buy?
First you should look for accessories that you already have in your closet. Dig through your collection and check what really suits you. Once you're done choosing from old pieces, now you can purchase some new ones. You need to consider a few things while buying jewelry: buy jewelry which matches your outfits, for the clothes which are of neutral shades buy bright accessories to spice up your overall look and lastly, consider buying some pink diamonds and jewelry from Houston Gold Exchange.