The annual holiday office party is a great chance to mingle and network, but it can also be a nightmarish setup of faux pas and awkward social situations. Here are a few potential faux pas and how to avoid them!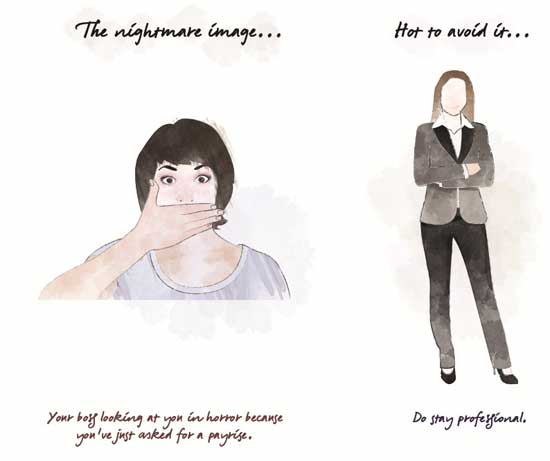 The tricky scene: You're interacting with your boss
The potential faux pas: Your boss stares in horror as you demand a pay raise, regale her with wild tales about your social life, or ask her a wildly inappropriate personal question
How to avoid it: Remember that just because you're mingling after work hours doesn't mean it's okay to cut loose with stories about your drunken escapades or other too-personal anecdotes. Those stories can make your supervisor wonder whether you're a fit candidate for the job! The same goes for nosy questions: stay professional and polite, and make small talk about safe topics like her family or hobbies. And don't bring up your salary: that can wait until your annual review.
The tricky scene: It's hammer time. Not the dance: the drinking atmosphere.
The potential faux pas: Getting toasted in front of all of your coworkers and possibly upper management, blurting out secrets, then throwing up in the recycling bin.
How to avoid it: It's possible (okay, highly likely) that the booze will be flowing and everyone will be encouraging you to drink up. However, if you want to stay professional and pulled-together (and you do!), master the art of the polite "no, thank you". Explaining that you are a designated driver is also a good way to brush off offers of alcohol if you aren't interested.
If you do decide to imbibe, stick to a few drinks maximum, and make them sippable champagne rather than shots. And make sure you drink plenty of water: dehydration is no fun! If you start to feel tipsy, bow out gracefully and hop a cab; it's better to duck out a little early than overstay your welcome and endure whispers for weeks afterward.
The tricky scene: You want to look great, but still professional
The potential faux pas: You're a hot mess, and everyone is staring
How to avoid it: Stick to clothes that fit well and are comfortable; now is not the time to try to break in a new dress or shoes. Bring flats in your handbag in case your heels become uncomfortable or you feel wobbly.
Makeup-wise, it's smart to stick to something low-key that won't need constant touch-ups throughout the night. Eye makeup is better than lipstick in this respect, especially if you'll be eating and drinking; but if you must wear a lippie, choose a long-wearing formula.
The tricky scene: Everyone is hitting the dance floor, and someone just pulled out the karaoke machine
The potential faux pas: You, singing and dancing to your favorite 80s hair band hit. Need we say more?
How to avoid it: You might have killer moves, but the office party is not the place to put them on display. You can nod your head and sway a little, but leave the dance battle drops at home.
Content/images were provided by Simply Be
Related posts: