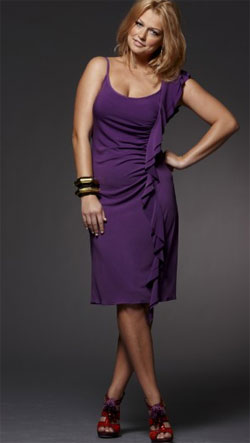 A formal dress should make a girl look and feel like the belle of the ball, but it's hard to have a Cinderella moment when you struggle to find the proper dress size at your local shop. Luckily, plus size formal dresses aren't impossible to find, nor do you have to settle for something dowdy and unfashionable. Online retailers like plussize-dresses.com are a perfect place to start your search, since they'll typically carry a more extensive size range than your average high street store.
There are a few things to keep in mind while shopping for plus size formal dresses, the first being your personal taste. Don't buy something simply because it looks good on the mannequin or because it fits the hottest new trends; you want a dress that fits and flatters, and most of all makes you feel good while wearing it!
There are a few fitting tips you should keep in mind as well. If you're very curvy, it can be difficult to find a plus size formal dress that will accommodate your bust line without appearing too large everywhere else. Find a good tailor who can adjust the dress accordingly so it will fit to your body.
Necklines are largely a source of personal preference, but as a general rule, a one-shoulder style is flattering on almost anyone. If you have a shorter neck, avoid halter tops; and if you have a very broad chest, avoid spaghetti straps or racerback style necklines, which will make the chest and shoulders look broader. Also look for embellished necklines, which draw attention up to the face and away from any problem areas down below.
If you're trying to hide a bit of a tummy, an empire waist is a fantastic choice; in fact, it's quite flattering on everyone. If it's your hips that you'd like to minimize, look for an A-line skirt, which will give you a bit of extra room on the bottom.
Finally, you might find it tricky to choose between a maxi or a mini. If you prefer a maxi and are very petite, be sure to have it altered so it isn't too long and saggy, or you'll look lost in the fabric. If you like to show off your legs, go for a mini but be sure you're more covered on top to keep the balance (no deep V-necks, please). Formal dresses should be pretty, not trashy!
Related posts: