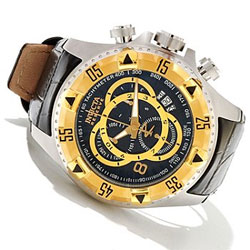 Much like a good pair of shoes or the right jacket, a man's fashion ensemble isn't complete until he has a good watch. If you're in the market for a new watch for yourself or for a special man in your life, take a look at these top men's watch trends, some things to consider when buying and some of the top brands you should consider.
Things to consider when shopping
Obviously, your first consideration should be the quality of the watch. However, don't confuse a hefty price tag for a quality timepiece. You can find an array of watches priced under $1,000 that will perform just as well as a $10,000 watch, and you can find $1,000 watches that will not be much more satisfactory than one costing only a few hundred dollars.
That said, it isn't wise to go for the cheapest watch you can find. A luxury timepiece is an investment that you'll wear every day for years to come, so go ahead and splurge a little on a watch you really love.
The next thing to consider is the style of the watch. Are you looking for a very versatile timepiece that can go from work to dinner to a weekend casual social event? Or are you picking out a second (or third, or fourth!) timepiece for your wardrobe?
A good versatile watch won't feature too much jeweling or other "bling", which can seem too flashy for casual weekends or the office. If you prefer a leather strap, it's okay to choose one that matches the leather of your favorite pair of shoes, but know that black is the most classic and versatile pick.
If you like a metal link band, mixed metals can make the watch versatile enough to mix with a variety of outfits and jewelry. However, if you lean heavily toward gold or silver jewelry, choose a band accordingly.
Durability and use are other factors to consider. Some watches are meant to withstand rugged activities or have extra features for the avid sportsmen, such as a pedometer; while other watches are meant to look elegant with a suit but won't have tons of extra features.
Trends in 2013 and brands to look for
Rose gold is making a surprising leap from ladies' to men's watches in 2013. While this metal has traditionally been associated with ladies' watches and jewelry, it's now popping up on men's watches, both solo and mixed with other metals.
Another big trend in 2013: graphic black and white. The 60s mod sensibility has been splashing across both men's and women's fashions this spring and graphic black and white colorblocking is big for watches as well. Art Deco influences are big as well.
Finally, skeleton watches and exposed dials are all the rage. Transparent or exposed dials and hardware are going to be big in 2013; the more you can see, the better. Some skeleton watches have a very tough look to them while others feature mixed metals for a more polished look.
Brands like Rolex, Tag Heuer, Tissot, or Omega, Invicta watches are all excellent investments. Breitling is another smart investment watch brand and has a bit of street sensibility, as the brand just signed celebrity football star David Beckham as the new face of the brand.