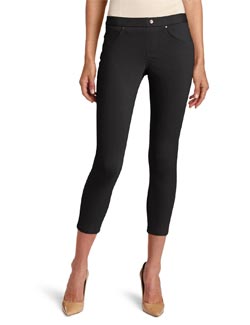 It's hard not to love Keira Knightley's style no matter what she's wearing, she manages to look effortlessly chic and stylish. Snaps from the set of her latest film show the star looks just as stylish when she's dressed down as when she's all dolled up for the red carpet—here's how to copy her easy-breezy look!
Keira has been in the U.S. to film scenes for her upcoming movie, 'Can a Song Change Your Life?'. On the streets of New York City, where the temperature has been soaring, she was spotted in chinos, loafers, and a loose sleeveless top. Her look is a cute combination of menswear and feminine details, and it's easy to emulate.
You can start with straight-leg chinos, rolled up a bit to show the ankle. The cut should be loose but not too slouchy. Loafers or brogues so hot this fall are a perfect flat shoe that offers a bit of menswear detailing while also being quite comfortable for walking.
Since you're wearing somewhat casual trousers, you'll want a silky sleeveless top. Tuck it in and add a slim belt to define your waist important when you're wearing loose clothing.
Keira made sure to add a feminine touch to this casual outfit with a couple of slim chain necklaces, but otherwise, you don't want to add a ton of jewelry. Statement earrings and oversize bracelets are not a part of this outfit's cool, casual vibe.
Finally, a cross-body bag will hold any small essentials and reinforces that this look is deliberately, stylishly laid-back yet still feminine. If you're wearing neutral colors, the bag is a great way to add just a tiny dose of color to your outfit.
Related posts: