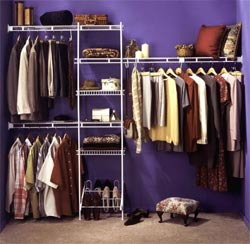 Choosing an outfit from a messy closet isn't easy, especially when you're in a rush. Who has time to dig through piles of sweaters to find something cute to go with your new skirt? Sigh. Better to grab the black one on the top…again.
Luckily, with a few tweaks and some handy organizing accessories, you can get your closet ship-shape in no time, making it easy to see what you have, no digging required.
Consider installing a double rod in your closet, which allows you hang two rows of clothes, one above the other. This is great if you wear mostly separates. If you have lots of long dresses in your closet, you can choose a hanging double rod for one half of the closet and leave the other half open for longer items.
Clear shoe boxes let you see each pair without opening every box. Put the boxes with everyday shoes (flats, kitten heels) on the floor where they're easy to reach. High heels and out-of-season shoes like flip-flops or boots can go on the top shelf.
Those over-the-door multi-pocket organizers are perfect for stashing scarves, clutch purses, and other small items. You can also find over-the-door racks with hooks to hang robes, handbags, and scarves.
If you have shelves for your folded items, like sweaters, make sure to space the shelves so you're stacking only four or five items on top of each other. No one wants to dig through a stack of a dozen sweaters, much less refold them all and place them neatly back on the shelf.
Don't forget organizer trays for your lingerie drawer, cedar rings for any hangers with wool items on them, and a tie rack to hold long necklaces. If you don't have a chair by your closet, put a small step stool in the closet so you'll have something to sit on when you need to put on your shoes.
Voila! You're organized! Now, doesn't that make it easier to get dressed each morning?
Related Article: How to detox your closet and get organized (part one)