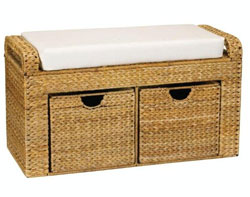 Everyone loves to decorate their living space with their favorite photos, art, and other decorative items, but when space is at a premium, say, in a studio apartment, you need to get creative. After all, you don't have tabletop space to space for photos and assorted bric-a-brac.
The first step is to decide which pieces you absolutely have to display, and which can be tucked away. Maybe you have some favorite photos from a vacation that you'd really like to see every day, while others from the trip can be tucked away in a photo album on the bookshelf. The remaining photos can be placed in a large collage frame, which takes up less space than a smattering of smaller frames and also looks more streamlined. You could use different collage frames for different 'themes', such as vacation, family photos, etc.
Tabletop items should of necessity be kept to a minimum. Move plants to a multi-tiered plant stand by a window, or place in hanging containers. Place candles in a wall sconce. Consider new and creative ways of displaying favorites; for example, instead of displaying deco spheres in a flat bowl, place them in a tall clear glass vase, which takes up much less room on a tabletop. Artificial flowers could be snipped to size and pressed in a shadowbox, rather than placed in a tabletop vase.
Decorating and storage also go hand in hand. Contain magazines in a pretty basket, use book boxes to hide miscellaneous items, and buy decorative storage boxes to hide items away in plain sight, on shelves or under a sofa or table.
But while you're paring down, don't underestimate the power of one or two large, well-placed pieces of decor, like a sculptural centerpiece, an oversized hanging lantern, or a large floor vase full of reeds. Surrounding yourself with the objects you love is the key to making your house a home, so don't force yourself into a Spartan state of design! The trick is to choose just one or two pieces and allow them to command attention, rather than surrounding them with a jumble of smaller competing objects. This lets you appreciate the impact of these display items and offers the eye a clean, pleasing picture upon entering the room.
Related posts: