Do you want a new wardrobe for spring (of course) but lack the cash to buy one? Maybe you have friends in a similar predicament? Instead of simply bemoaning the lack of shopping funds, host a clothing swap party! This is a great way to clean out your closet of unwanted duds and pick up some new items for free at the same time. And as a bonus, it's a new and fun twist on girls' night in!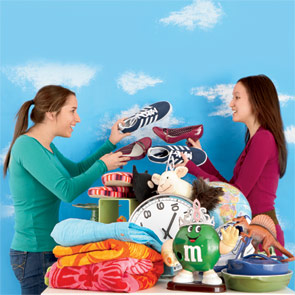 Make it a real party by sending out invitations with RSVPs a month in advance. You'll need to decide how many guests to invite and set a minimum and maximum on the number of items each woman should bring to the swap; this ensures that you'll have enough items on hand to make it fun, but not so many items that it gets overwhelming. Five to ten items is a good rule of thumb. If you have a very small circle of friends, consider asking each to bring one of her stylish acquaintances along with her unwanted items.
Make sure everyone knows the ground rules in advance so no feelings are hurt! To keep things sane, draw straws and set a time limit for each guest to "shop" for an item. Each guest should have a number of "tickets" to use; for example, if each guest was told to bring five items to the swap, each guest should have five tickets to use to "purchase" five items during the party.
Obviously, you can also hand out a number of tickets depending on the number of items the guest brought with her. If you do this, though, make sure there isn't a huge gap between the minimum and maximum number of items each guest is allowed to bring; it won't be fair if one guest only has five tickets for shopping and another has twenty! For that reason, sticking to a fixed number of items to bring and to shop might be better.
The day of the party, take breakable items and clutter to another room. Ask friends to help turn your living area into a full-fledged "shop" by lending a few full-length mirrors and perhaps even a rolling clothing rack to display items. Clearing off a couple of coffee and end tables will allow you to stack goods like pants and shirts; a breakfast tray can be used to contain baubles like jewelry. Try to group like items together in different areas of the room.
If you have a spare bedroom or bathroom that's presentable as a changing room, great. Otherwise, you can make do by partitioning off a corner of the room with a folding screen or even stringing up curtains or thick sheets to create a temporary dressing room. If you're hosting with just a few of your BFFs and really lack separate changing space, you may want to ask them to wear a bathing suit or modest underwear and a camisole under their clothes so you can try on clothes together without embarrassment.
Note to your guests that items should be gently worn and washed. Clothing and accessories alike are good, but undergarments, swimwear and anything with holes or stains should be avoided.
Set out a counter of non-messy snacks like veggies and dip of finger sandwiches. This will allow guests to nibble while browsing. Of course, if you really want to have fun, having a mini wine bar on hand is also tons of fun, but make sure you also have nonalcoholic drinks ready for guests.
Related posts: