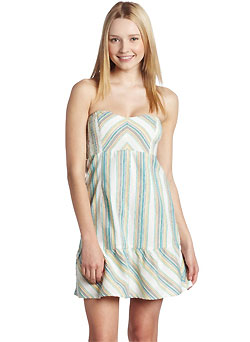 Stripes are one of those perennially trendy patterns that are both fun and frustrating. Worn the right way, they add a dose of cool, casual flair; but worn the wrong way, they can visually add pounds and produce an altogether unflattering effect. Luckily, there are some easy ways to wear stripes so the look is more cool-girl, less cringe-inducing.
First, if you're really nervous about wearing allover stripes, that old accessory trick applies: find shoes or a scarf to add a small dose of stripey fun to any outfit. Skinnier stripes are more demure, while thick stripes are bolder and more attention-getting, so choose appropriately.
Classic, nautically-inspired horizontal stripes look great on almost everyone. But if horizontal stripes are just too scary, look for diagonally cut stripes, which help give the illusion of a thinner you by wrapping around the body. Or enhance the nautical vibe by choosing stripes for a bikini, you can't go wrong there!
It's no secret that horizontal stripes can add pounds, which is why many women avoid them. But you don't have to fear them if you know how to adapt them for your body type. Stay away from shapeless tops and dresses, which will add bulk; a body-skimming (not skin-tight) cut is much more flattering. While it seems contradictory, bold, thick stripes can actually help balance a fuller figure, providing they're cut to be body-skimming and not baggy. And remember: belting a dress is the quickest way to define your waist!
You can also use stripes to highlight or downplay different parts of your body. If you're bottom-heavy, wearing stripes up top and a solid color down below will add balance; ditto for a top-heavy girl in a solid top and striped skirt. Stripes draw the eye, so the trick is to use them to draw the eye to a part of your body you love. See, it's easy to make stripes work for you!