This autumn/winter, you need a look that will protect you from the weather extremities of the season while also ensuring you look the part, whether rambling in the countryside or strolling up a snowy high street. For either scenario, the modern gentleman is the perfect look, and is particularly in at the moment due to the 50th anniversary of the ultimate British gentleman, James Bond. Matching classic, sophisticated cuts with enough layers to keep you warm in the depths of winter, this is the look that puts to bed the myth that anything practical can't be cool. Here are the items you need to complete the look this season.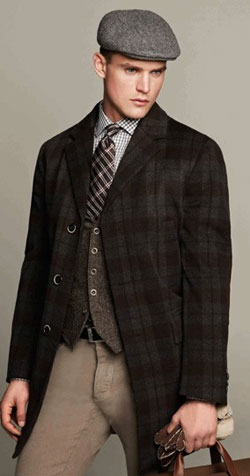 Shawl-collar jumper
It is the little details that really make the modern gentleman look a success. For example, choosing a shawl-collar jumper over a standard crew neck shows that you care about your appearance, with the added material at the neckline providing added interest to an otherwise standard item. The shawl neck also provides extra protection to an area that needs it most.
Tweed overcoat
Nothing says modern gentleman like tweed. Many British-heritage brands such as Hackett are experts at using this classic fabric in overcoats that combine the best in classic and contemporary stylings. Pair with plain trousers in a navy or cream to top off the look.
Winter boots
One of the places you really don't want to skimp when purchasing clothes to see you through the colder months is shoes. Buy a cheap pair, and you will be lucky if they last you through to spring, whereas if you invest a little more in a pair they could last for the next two or three winters. Brown chukka or other autumnal boots with a thick white sole are would be the perfect complement for navy turned-up trousers and thick-wool socks, again providing style and warmth in one handy package.
Leather gloves with fur trim
You may think gloves are the one area where practicality rules completely over style. While it is difficult to make thermal gloves sleek and sophisticated, why not consider leather? The addition of fur to the wrist section also provides added warmth, showing also your attention to detail when it comes to your outfit. For the best look, go for all black or tan with a white fur.