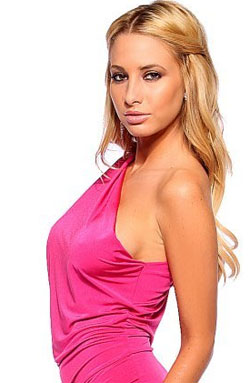 Ready to jump into spring's hottest fashion trends? Use the stars as your guide! Here are six of spring 2012's surest trends, and lessons on how to rock them from the stars who are currently loving them, on and off the red carpet.
Anything orange. As seen on starlets like Cameron Diaz and Vanessa Hudgens, punchy orange is an instant attention-getter. Follow their lead by pairing it with minimal accessories and warm gold jewelry, so the color can speak for itself!
Cut-out shoulders. It's not that super-sexy starlets like Adriana Lima and Zoe Saldana need any help turning heads! But the "cold shoulder" trend is a great way to draw all eyes to a part of the body that looks great on any woman. Pair it with pulled-back hair and skip necklaces or huge earrings, which will distract from this detail.
Metallic platform pumps. Jessica Alba and Noomi Rapace know the only thing better than a platform pump is one with a bit of sparkle! Both of these actresses know it's okay to pick up the shine with a bit of subtle metallic edging on clothes, or a glittering accessory like a metallic clutch.
Bright blazers. Hilary Duff and Kirsten Dunst have both embraced sunshine yellow blazers, but yours can be in any shade of the rainbow. These girls know that a bright blazer is an instant pick-me-up for a plain white tee and jeans, or basic black anything.
Lace inserts. Olivia Wilde knows a bit of sheer lace paneling can make even a simply cut black maxi dress look ooh-la-la sexy! Look for lacy details on womens blouses, dresses, and even skirts for a bit of unexpected feminine flair.
Wild tights. From Sara Bareilles to Kourtney Kardashian, it seems there isn't a celeb who hasn't tried out this trend. Whether your tights are boldly patterned or brightly hued, it's important to keep the rest of your outfit simple and add a few grown-up pieces (like a structured bag), so you don't look like you fell into your niece's dress-up trunk.
Related posts: