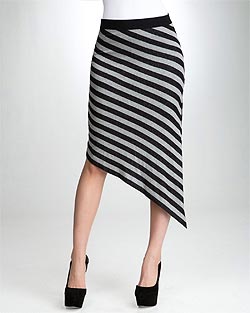 Maxi skirts proved to be one of summer 2011's hottest trends, and as summer winds down and moves into fall, the trend is still going strong. Hardly surprising, given just how comfortable this trend really is!
So, if you're interested in carrying the maxi skirt trend through August and into September, there are a few tips and tricks you'll want to know:
Balance is key. Yes, all that fabric can seem daunting, but when paired with a tank top, it's easier to maintain a good ratio of volume to visible skin. When it's cooler, you'll need to stick to body-hugging tops to avoid looking like you're drowning in your clothes.
A slinky long-sleeved wrap top, a fitted jacket, or a hip-length sweater (close-fitting but not skin-tight) are all great options. Anything super-loose or super-long is not okay. You can also add a little definition in there by belting or tucking in a top.
Your shoes are important. You probably paired your maxi skirts with flat sandals during the summer; during the fall, switch to flats or flat boots. Booties can look awkward with the length, and cowgirl-style boots should be worn with caution with some styles to avoid any "Little House on the Prairie" comparisons.
You don't have to ditch the crazy prints for fall! Many of summer's maxi skirts featured wild colors and prints, many with a distinctly ethnic or hobo feel. Toning them down for fall is as easy as pairing them with neutral colors and accessories, like a denim jacket.
You can also make these skirts look less beachy by paring them with your more structured fall accessories, like a chunky leather shoulder bag or statement earrings, as opposed to the lightweight bags and jewelery that normally dominate during the summer months.