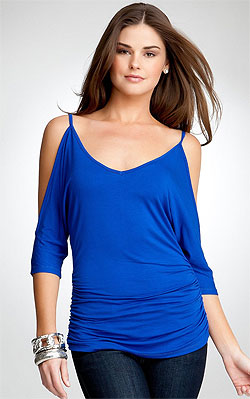 It seems like our favorite celebs love to rock daring, draping, dangerously low-cut tops and gowns, both on the red carpet and in real life. But can you, a non-Hollywood citizen, pull off those same looks? Yes! Just use your favorite celebs as a guide, and you'll know what to do or more importantly, what not to do, to make the look a success.
First, let's think about the obvious: deep v-necks that show off everything down to your navel. (Remember that infamous Versace worn by J.Lo?) For the street, stick to something a little more tasteful; a deep V is okay, but it shouldn't linger on down past your bra line. You can find a wide array of bras designed specifically to fit under low-cut tops, but if you can't find one to suit your dress, make sure to pick up an adhesive bra and double-stick tape to keep everything covered!
A deep, deep neck is not the look for you if you're larger than a B-cup. (Sorry!) But that doesn't mean you have to be all buttoned up. Backless tops and gowns, or those with draped, low-cut backs, are hugely popular as well and you can easily wear a backless bra underneath. (You may still want to use the double-stick tape, just to keep the edges in place.)
If you plan on going backless, sweep your hair up to show it off: what's the point of showing skin if it's going to remain hidden under your hair? With both of these styles, you'll want to skip distracting necklaces in favor of rings, earrings, or bracelets.
If low necks and backless tops aren't your thing, there are two other hot spring styles for you to try. Cut-outs continue to be popular, and let you show off a sliver of skin without the worries that accompany a daringly low neck. And "cold shoulder" tops are everywhere this season: whether short-sleeved or long, fitted or drapey, these tops with the cut-out shoulders are both cute and trendy and they look great on all body types, no double-stick tape needed.
Related posts: