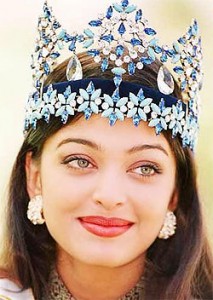 India holds the highest number of Miss World winners along with Venezuela. Miss India Reita Faria was crowned Miss World 1966, becoming the first Miss World title holder from India. Decades later Aishwarya Rai went on to be crowned Miss World 1994. Her win was followed by others – Diana Hayden,Yukta Mookhey and Priyanka Chopra joined the elite list.
Aishwarya Rai – the hazel-eyed beauty did India proud by clinching the beauty crown in 1994. The same year, Sushmita Sen was crowned Miss Universe. So it was a double delight for India then.
After Ash, it was Hyderabadi girl Diana Hayden. She was only 24 years when she became the third Indian woman to win the title in 1997.
Yukta Mookhey, the tall leggy beauty was crowned the winner at the 49th Miss World pageant held in London.
Later Miss India Priyanka Chopra, won the Miss World crown at London's Millennium Dome in 2000.
This year, it's Pooja Chopra's turn. Pooja will represent India at the Miss World 2009 contest being held in South Africa. Pooja is seen posing for photographs during a photo call to promote the event in London.