Some of Britain's hippest girls are once again covering fashion magazines around the world, gracing the October covers of Vogue, Tatler, Glamour, and more. Here are some of the best to look out for:
Keira Knightley covers Vogue. She's gearing up for a heavy promotional campaign for 'Anna Karenina', and she's dressing the part accordingly on a number of fashion magazines this fall, with ethereal braided updos, smoky fall makeup, luxe jewels, and richly textured clothing in lace and velvet. Want to copy her look? You can thanks to Banana Republic, which is releasing a capsule collection modeled after the fashions of her latest movie.
Alexa Chung brings her girl meets boy style to the cover of Numero, posing in lacy Valentino and a wide brimmed black hat. The British it girl is currently fleshing out plans to release her own fashion line, a piece of news which has had the fashion world atwitter!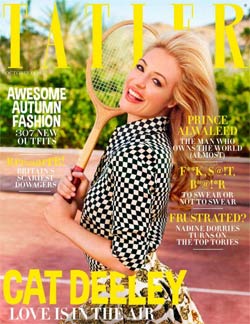 Cat Deeley gets sporty for the cover of Tatler. The blonde TV presenter shows off one of fall 2012's hottest trends: checks. In real life Deeley says she's very comfortable picking out her own fashions; in 2009 she told the Washington Post, "I do it all myself, actually. I am my own stylist. I love fashion, I love everything about it, I like high street and designer, but my favorite thing is going to vintage stores… The reason I am my own stylist is that no one can tell you what you're comfortable wearing on any given day, so I prefer to be my own stylist."
Carey Mulligan shows off not one but multiple trends on the cover of AnOther magazine, wearing a menswear inspired oxblood suit, checked shirt, and loafer wedges. And of course, there's that famous pixie, slicked back to perfection!
Emma Watson goes two for one this month, appearing on both the American and UK covers of Glamour magazine, all dressed up and with slightly disheveled hair. She's become famous for her pixie cut, but she confesses now that she's growing it out for roles and also because "Men like long hair!"
Kate Moss is all sexy screen siren for the cover of Vogue Paris, wearing bronzer, nude lipstick, a wavy blowout, and a sparkling red dress. The singer posed with friend George Michaels, who gave her a role in his "White Light" music video after she bemoaned being left out of his Freedom 90 supermodel video.
Related posts: