Jessica Marais might not be a household name, but the Aussie actress could soon become more famous as she expands her role on the period drama 'Magic City'.
Born in South Africa, Marais spent her childhood bouncing around Canada and New Zealand before landing in Australia, where she then grew up. While attending the National Institute for Dramatic Art, she won the role of Rachel Rafter on the Australian TV show 'Packed to the Rafters', which would catapult her to fame in her homeland and land her a hot fiancé, co-star James Stewart!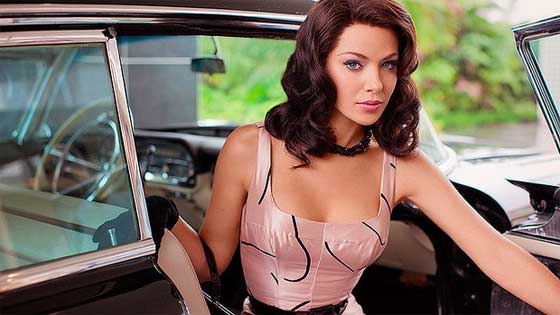 Marais played the role of Rachel Rafter for four years and got engaged to Stewart along the way, but eventually left the show as she wanted to concentrate on her family. She and Stewart welcomed a baby girl, Scout, in 2012; Marais shared with the magazine Who! that her daughter's name has literary roots: "To Kill a Mockingbird is one of my favourite novels, my mum brought me up reading it, and it never fails to move me."
'Packed to the Rafters' won a slew of awards in Australia and was a critical hit. The show was nominated for dozens of Logie Awards over its run and Marais received several nominations herself, taking home the awards for Most Popular New Female Talent and Most Outstanding New Talent in 2009. She was also nominated for the Most Popular Actress award in 2010, 2011, and 2012, though she didn't win.
'Rafters' wasn't her only work, though. Marais had a small role in the 2012 horror film 'Needle' and had a recurring role as the brutal bodyguard Denna on the American TV show 'Legend of the Seeker' from 2009 to 2010. But it wasn't until two years later that her biggest role yet would come calling in the form of a period gangster drama.
In 2012 the miniseries 'Magic City' launched in the US, telling the story of a Miami hotelier in the 1950s who strikes a deal with a corrupt gang boss in order to save his business. Marais signed on as the gangster's trophy wife, Lily Diamond, and is slated to return this year in the show's second season.
As Marais decided to move to the U.S. to concentrate on her American film and TV career, partner Stewart also left 'Packed to the Rafters' in order to support her and care for baby Scout during the transition. The couple relocated to Los Angeles, California, with Marais also working in Miami while filming 'Magic City'.
Of working on the show, Marais told The Sydney Morning Herald that the set was absolutely authentic to the period details: "They don't use anything that isn't authentically from the 1950s. Even the things you don't see, the right undergarments, the size of a heel on a shoe. The result is a world which 100 per cent informs your performance and informs the detail in your work."
She also said that she found Lily to be a much more complicated and fun role to play than one might expect: "There are so many layers to peel back with her, and as the first season unfolds you realise there's so much more going on," she says. "Lily is one of the only female characters that is capable of playing in this dangerous, masculine world." Marais has previously stated that she's having no problem dropping the baby weight gained during her pregnancy with Scout, as she gained a mere 7kg during her pregnancy due to a penchant for healthy snacks!