John Lewis has long been one of the top British destinations for stylish men, and this spring they're continuing that tradition with sportswear and outerwear designed for the man who wants practicality and style all in one package. British retailer John Lewis has an excellent range of Barbour coats that combine practical assets like waterproofing or extra pockets with stylish details like tailored cuts and contrasting buttons.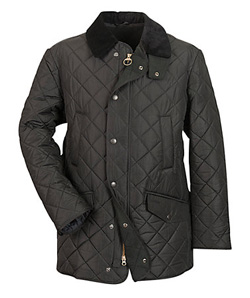 John Lewis' range of Barbour coats are perfect for hiking, sporting, or simply staying warm and dry during a spring rain shower. And with prices starting below 100 pounds, these jackets are an affordable luxury—perfect as a gift for yourself or for any stylish man in your life.
This spring, John Lewis ups the style quotient even further by releasing a special capsule collection centered on iconic Hollywood movie star Steve McQueen. McQueen was quite famously an enthusiastic motorist; he enjoyed racing cars and motorcycles in his action films and in his spare time, he loved to race motorcycles as a hobby and in competitions. He could often be spotted in Barbour's International Jacket.
In fact, in 1970 McQueen competed in the Lake Elsinore Grand Prix, finishing in the top ten out of a pack of 500 riders. It's fitting then that John Lewis chose to build a collection around the star, as Lake Elsinore is the theme of their spring/summer 2013 collection. (While the name is indeed borrowed from Hamlet's castle, this particular Lake Elsinore in located in California in the United States.) The aesthetic of Lake Elsinore and of Steve McQueen are well captured by John Lewis in a rugged range of items, including Barbour coats such as the A7 Barbour biker jacket, reinvented for the spring/summer season in lighter fabrics.
Steve McQueen's style was modern and rugged; he didn't care for fancy dress but instead picked out clothing that merged style with practicality. The Steve McQueen collection honors that mindset with Barbour coats, jeans, chambray, hoodies and checked shirts for layering, and tees featuring a series of iconic Steve McQueen imagery.
While you're picking up a Barbour coat or jacket, don't forget that Barbour offers a whole range of menswear to complement your outerwear. The Barbour aesthetic, which draws heavily from cycling, military and outdoors influences, offers the perfect collection of relaxed and rugged items for city and country alike. Look for items like rugged trousers, weatherproof shoes, and tees and long-sleeved tops for layering. Rugged cases to protect your tech and tote your goods complete the Barbour man's wardrobe.
Even if you aren't in the market for a new wardrobe for yourself, remember—Father's Day is coming up fast, so don't forget to browse through the spring/summer Barbour collection for a gift for Dad. With so many apparel and accessory choices, there's certain to be something here he'd love!
Related posts: