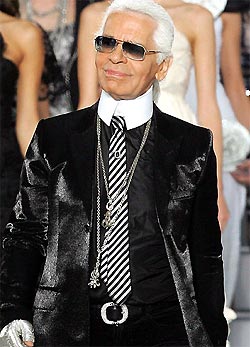 If you want high-end fashion at a low-end price, then you're in luck, because two major fashion collaborations are coming to a store near you this fall.
First up is the limited edition collaboration between Karl Lagerfield and Macy's. The Chanel creative director brings his collection to select Macy's stores and Macys.com on August 31. The entire collection, which spans several dozen pieces, is priced under $170.
So, what can you expect from the collection? Plenty of office-appropriate items, tailored separates, and day dresses. There aren't any jaw-dropping surprises, but if you're a fan of Lagerfield's spendier works, then you might enjoy browsing through this collection for some updates to your fall wark wardrobe.
You can view a slideshow of the full collection at The Cut, located online at nymag.com.
Also hitting stores this fall, for a very limited time, is the Missoni for Target collection.
The collaboration between Margherita Missoni and the mass-retail giant will hit store shelves on September 13 and run for about five weeks. The first print ad for the collection was released last week, but so far, details on the collection are scarce.
What is known is that this is going to be far more than a mere clothing collaboration. Clothes, accessories, office goods, bedding, home decor basically everything under the sun that you could want in a lifestyle line, including patio furniture and bicycles will be available. In short, if you want to Missoni-ize all of your earthly possessions, you may.
Items in the collections will start at a very affordable $2.99 and range all the way up to nearly $600 for items like the patio set.
Many of Target's previous collaborations with designers like Jean Paul Gaultier have sold out very quickly, so if you plan on snapping up some of these items, get into Target as early as possible once the collection goes up for sale!