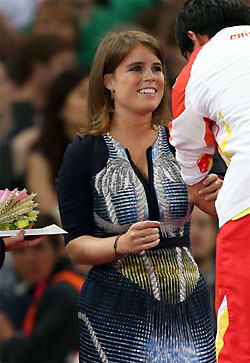 Move over, Kate Middleton you've got fashion competition, and it's in the form of none other than a royal cousin!
Princess Eugenie sixth in line to the throne has seen an uptick in her public solo engagements since graduating from Newcastle University earlier this summer. And accordingly, she seems to be stepping it up a bit in the style department.
The granddaughter of the Queen stepped out in style this week at the Paralympic Games, wearing a £935 zip front sail dress from the Spring/Summer 2012 collection of London-based design team Peter Pilotto. Eugenie paired the colorful dress with plain black suede pumps, the better to let the knee length design speak for itself.
Eugenie, 22, seemed to be a huge hit with the crowd, who cheered as she walked across the stadium to present the gold medal for the men's 100m T46 to China's Xu Zhao.
While the Duchess of Cambridge was present for the Men's Discus Throwing on Sunday, and presented the medals for that event, both she and her husband have been absent from the events for the end of the Paralympics.
Eugenie graduated with a 2:1 combined degree in English and history of art, and has said that she plans to concentrate on her charity work for the Royal National Orthopaedic Hospital while also carrying out her official duties.
'I'm a freshly finished student so my future plans are coming together as we speak,' she told reporters, speaking happily about her experiences as a student.
'I am so proud. Being up in Newcastle is just amazing. I had so much fun.
'Being in a house with seven girls was my highlight because you'd come back and there was always someone cooking, someone to welcome you.
'That was amazing just being in a house with all these wonderful people.'
Related posts: