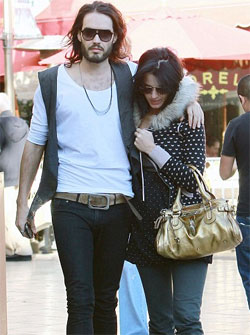 Hollywood's latest `It' couple, popstar Katy Perry and comedian Russell Brand's Indian sojourn has taken them to Rajasthan, where they are enjoying a typical tourist experience with henna tattoos and elephant rides. The I Kissed a Girl singer was so surprised by the co-existence of elephants and luxury cars in the tourist haven of Rajasthan that she could not help but post a comment on her Twitter page, "Mercedes and elephants side by side, Wow…"
Wearing flower garlands and sandals, the couple fit right in on their romantic Indian holiday, spending the final day of 2009 touring the Amber Fort at Jaipur and stopping at a market for some holiday trinkets before heading back to their luxury hotel.
The pair have been in India since Monday for a two-week New Year holiday. They spent two days in Delhi, visited the Taj Mahal, before flying to Rajasthan on Wednesday. The 34-year-old comedian wore flip-flops and threequarter length trousers while his American girlfriend wore an all-in-one pink jumpsuit. Katy and Russell's winter getaway is the latest step in their whirlwind romance and is fuelling rumours of an impending engagement.