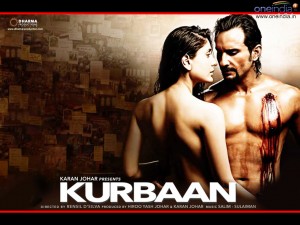 It's a tremendous start to the album, what with Salim Merchant coming behind the mike to open 'Shukran Allah' in a manner similar to that of Kailash Kher crooning of 'Subhan Allah' [Fanaa]. Within seconds, Sonu Nigam takes over and you instantly know why he is simply the best that we have today when it comes to crooning melodious romantic tracks. His trademark silky voice is at play once again in this beautifully composed number which easily finds a place at the top of romantic numbers composed by Salim-Sulaiman. If the 'mukhda' is impressive then watch out for the 'antara' it proves once again why Indian melody can never ever be out of vogue. Shreya Ghoshal joins the scene three and a half minutes into 'Shukran Allah' and makes an instant impact. This is one song that would be played for a long-long time and is easily one of the best that we have heard this year.
It's the sound of guitar that lends a modern day feel to 'Dua Hai'. Though the English portion by Marianne D'Cruz has a distinct (and oft repeated sound by Salim-Sulaiman), it's the coming together of Sukhwinder Singh and Kailash Kher which brings in a different dimension to 'Dua Hai'. A fusion 'qawalli' that sees a mix of 'sufi', 'rock' and 'pop' coming together, it's the hook of 'Dua Hai' that keeps the ball rolling for song. While Kailash Kher brings in his own rustic touch to the track, it is usual energy that Sukhwinder Singh brings to the proceedings which make 'Dua Hai' special. Hear it for a couple of times and you would be hooked on for sure.
Salim Merchant gifts himself an entire song as a singer in the form of 'Ali Maula'. A situational track that should play as a part of the film's background, it has the kind of lyrics that may not be comprehendible to the common man. However, in the context of the film, one can well imagine it to be making a huge impact. Rendering a pensive feel to the proceedings with the protagonist kneeling before God to lend enough courage for him to accomplish the impossible, 'Ali Maula' carries trademark Salim-Sulaiman sound. In addition, the 'remix version' is well done too and makes one hit for a couch in the lounge!
Dark, haunting yet romantic touch is pretty apparent in 'Rasiya' which sees a fusion of Indian and Western classical music. Excellently crooned by Shruti Pathak who keeps her voice low for this sensual, romantic and poetic track, 'Naina' is yet another quality song by the young singer. The composers certainly know how to pitch her voice and in what situation. No wonder, 'Rasiya' is pretty much a testimony to this fact.
Singing quite regularly now for the compositions created by him along with Shekhar, Shankar-Ehsaan-Loy and also Salim-Sulaiman, Vishal rocks the show, literally, with 'Kurbaan Hua'. This is a kind of number which evokes instant reactions and immediate appreciation. 'Kurbaan Hua' is a rock track that completely goes with the action packed theme of the film, hence making one look forward to it's placement in the narrative. Other than 'Shukran Allah', this clearly is the pick of the lot in Kurbaan.
Kurbaan is a quality album all the way and clearly the best that Salim & Sulaiman have offered since Fashion. A difficult album to compose considering the kind of theme that the film comes with, Kurbaan boasts of the kind of sound that is consistent throughout. While quite a few tracks would be noticed more after the release of the film, there are songs like 'Shukran Allah' and 'Kurbaan Hua' that would make sure that Kurbaan makes a good head start at the music stands.