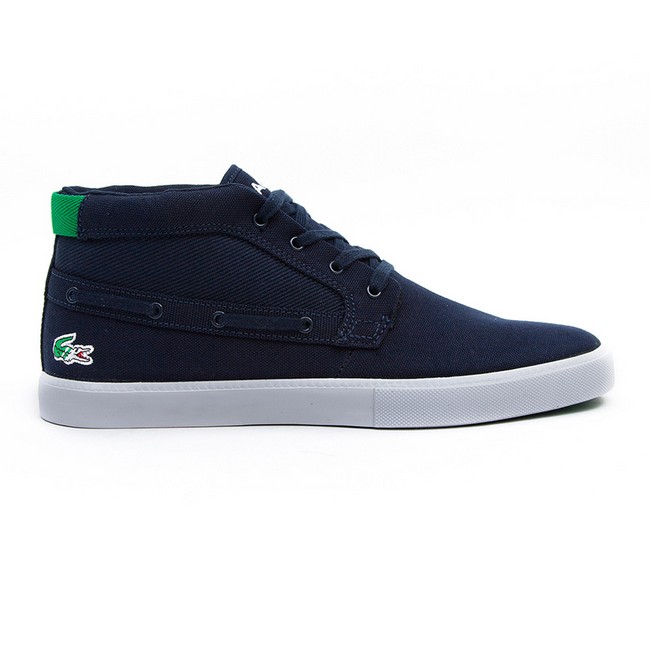 I ordered these Lacoste Bowline shoes in dark blue/green from Cloggs.co.uk. My girlfriend would like me to have a pair of casual shoes that would be a little more stylish than a regular pair of trainers; I wanted something that wouldn't look out of place for a trip to the pub or watching a football match. They also need to be comfortable and fit well. This seemed to be a good pair of shoes to make both of us happy.
While it doesn't pertain to the shoes themselves, I have to point out that I was very happy with the speedy shipping and free delivery. I'm reluctant to shop online if I know I'll have to pay extra to receive my purchases in a timely fashion, so this detail makes me much more likely to come back to this site!
Comfortable?
My first priority for footwear is that they must be comfortable, and these shoes are very comfortable indeed. I appreciate that they fit snugly without feeling too tight. They lace up firmly and I don't feel that they are too loose when walking. These shoes are made of canvas and leather, which I think is perfect for summer; they're not too hot on the feet, but they are durable and I think they will last a long time without showing undue wear.
Stylish?
Style-wise, both my girlfriend and I are very pleased with how these shoes look. My girlfriend is happy that I'm not wearing trainers when we go out! They look great paired with denim but also work well with a casual blazer. I don't think I would wear these to the office but you could certainly get away with dressing them up a bit for more casual events, like a date. At the same time I don't feel overdressed. And as I mentioned, they're very comfortable, much more comfortable that a pair of loafers or dress shoes might be.
I should add that I appreciate the small details on these shoes. The lacing on the side and the inset colour on the back are small details but they help set these shoes apart from your standard "skater" shoes. I don't consider myself terribly fashion-savvy and I definitely don't want to wear a pair of trendy shoes that makes it look like I'm trying too hard to be seventeen again. These look a little more polished and suitable for an adult. So, my girlfriend is happy with my new, more fashionable footwear, and I'm happy that I don't have to sacrifice my comfort or personal style to look good.
At the moment of writing, the shoes are priced at £40.00 and you buy them here.