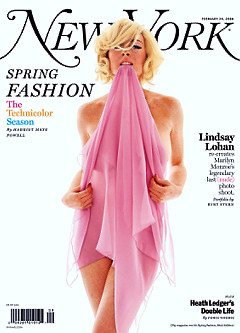 Hollywood actress Lindsay Lohan has once again emulated her icon, Hollywood legend Marilyn Monroe for the cover of Spanish Vogue. The Mean Girls star, who had earlier posed topless in a photoshoot to pay tribute to the blonde icon, has chanelled Monroe again in the photoshoot that took place in Hollywood Hills.
Lohan is seen wearing a curly platinum blonde wig on the cover of the magazine, reported Contactmusic.
The Just My Luck star had also earlier recreated the late actress' famous Last Sitting snaps for a 2008 issue of New York magazine. Lohan is known for her fascination with Monroe. She even has a quote from the Some Like It Hot star tattooed on her wrist.