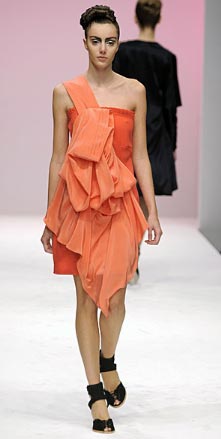 Psychedelic prints and colour ruled the ramp as designers at the London fashion week rallied cheerful spirits. Only in the choice of fabrics and embellishment did they betray the recession mood. Minimal bling but maximum fun, this fashion week ended as a show of optimism.
Vivienne Westwood, The grand old dame kept her rocker chic look in place with bold colours like red and gold ruling the collection. Knee-high boots and slinky fabrics proved that Westwood hasn't lost her flair.
Ashish Gupta, the British designer of Indian origin pulled tricks out of his '80s closet with epaulets and animal prints prancing among some rose embellishments.
Meadham Kirchoff chose to keep the silhouettes simple and focus on dressing them up with cutouts. High octane prints were back with a bang.
Labels like Erdem and Peter Pilotto put water colour prints, paint splashes and wild floral embroidery on one canvas, rivalling the madness of painter Jackson Pollock. The wrap dresses and puffed skirts could easily be translated into adventurous evening wear.
Red carpet darling Jenny Packham drew from the golden age of rock and roll with flirty bohemian silhouettes bearing intricate embellishment. By keeping the bling to strategic highlights, she made a statement in understated dresses.
In accessories, the word is loud and clear hats are back. Picture a day at the derby translating into simple daywear. For those who love their minis and hot shorts in the summer, add the kind of chaotic printed leggings that were showcased by Eley Kishimoto.
Military berets work well with medal-like brooches, used to dress up a simple silhouette.