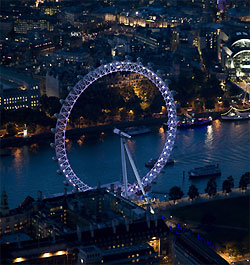 Call it the Duchess effect. For a second straight year, London has been named the fashion capital of the world; New York City came in second. Barcelona, Paris, and Madrid rounded out the top five.
The survey was conducted by the Global Language Monitor (GLM), which analyzed sources from the web, blogs, and the top 175,000 print and digital global media sources in order to create their list. Paul Payack, president of GLM, said of the results, 'Kate Middleton has proved to be incredibly impactful on the British fashion brand. The second thing is the Olympics being in the UK. For high fashion Paris is number one but it is not the media machine these other places are.
'Barcelona has made a really strong attempt to move forward and those efforts are paying off.'
The 2012 Summer Olympics were a fashionable event to be sure, with a closing ceremony that included appearances from the ever stylish Spice Girls and a line up of British models including Kate Moss and Lily Cole.
British brands such as Alexander McQueen and Burberry are also some of the most iconic and well loved in the fashion world today.
Meanwhile, the Duchess of Cambridge has become famous for her impeccable style and for the ease with which she mixes high street brands and designer pieces. She's also famous for wearing pieces multiple times a huge no no in the fashion world, but a thrifty trait that no doubt endears her to the public.
Experts estimate that Kate's influence has contributed millions of pounds to the British fashion industry, and her influence is easy to see on the street. Back in 2007, a £40 Topshop tunic worn for her twenty fifth birthday ignited a buying frenzy, selling out within twenty four hours.
The same incident occurred when she and Prince William announced their engagement; her £385 silk Issa Sapphire dress sold out almost immediately and led to endless copies from high street retailers. The earrings she wore for her engagement photographs were also so popular that two women in a New York jewelry store began brawling over the last pair of such earrings available at the shop.
Related posts: