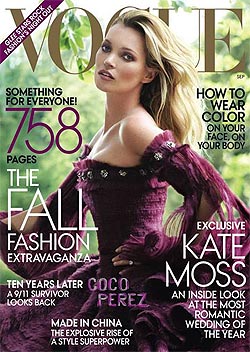 It's finally here: Vogue's internationally famous September issue, a veritable Bible of fashion, is finally on newsstands. And inside, we get a tantalizing look at some of the alleged stars of the upcoming Olympic Closing Ceremony in London, including British supermodel Kate Moss.
It might seem like looking ahead a bit too soon, but buzz is already building about the Vogue photo shoot, which features Moss posing in a gold encrusted bias-cut gown, specially created by Sarah Burton of Alexander McQueen to celebrate the London 2012 Games. And while Moss herself might not be a sportswoman, she certainly looks like she's captured the gold medal in the photo shoot. Now the photo has everyone wondering: is it a sneak peek at what Moss might wear to the Olympic Closing Ceremony?
The Olympic-themed photo shoot was commissioned by Vogue in association with the British Fashion Council and was shot by famous photographer Nick Knight. The spread features Britain's top models wearing top British designers. Naomi Campbell appears, also wearing McQueen; Lily Cole wears Erdem; and Georgia May Jagger appears in Victoria Beckham.
Now, rumors are swirling that these stylish supermodels may make up part of the Olympic Closing Ceremony, set for Sunday, August 12. We already know that Moss will be at the Ceremony, and with the tantalizing picture of that golden McQueen dress, everyone wants to know if it could be a hint of what she'll wear for her appearance. We also know that Brazilian supermodel Alessandra Ambrosio will be on hand to accept the handover of the Games to Brazil, host of the 2016 Summer Olympics in Rio de Janeiro, Brazil; so whatever these lovely ladies wear, it ought to be one glamorous closing ceremony!
Related posts: