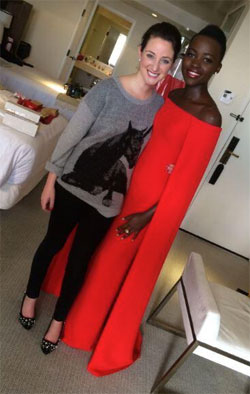 She's a red carpet darling whose meteoric rise to fashion fame has left everyone dying to know what she'll wear next, and now we know why Lupita Nyong'o always looks so flawless. Her stylist, Micaela Erlanger, was just named the third most powerful stylist in Hollywood by The Hollywood Reporter. (She trails only Elizabeth Stewart, who's dressed Cate Blanchett, Sandra Bullock and Julia Roberts; and Petra Flannery, who's dressed Amy Adams and Claire Danes.)
Erlanger previously styled Michelle Dockery in that stunning white and gold Alexandre Vauthier Couture gown for the 2013 Golden Globes, and it's thanks to Dockery that Erlanger and Nyong'o connected. As Erlanger has styled Nyong'o for a slew of awards ceremonies (thanks to Nyong'o's award-winning turn in 12 Years A Slave), she's also helped the actress dress for less formal events like photo calls and helped her land a modeling contract with Miu Miu.
Erlanger hasn't been in the business for very long, but she has good creds: she graduated with a fashion degree from New York's Parsons and worked for six years as the styling assistant to the late Annabel Tollman. In fact, she credits everything she knows to Tollman.
Now that Erlanger is in the spotlight, she kindly dished out a few tips to ABC News for making sure your own personal fashions look red carpet ready on a daily basis. First, she says, "Take pictures of yourself" from a variety of angles to see how an outfit looks on you. This will give you an idea of whether a cut is flattering or a piece needs a different pairing to work best. For example, you might discover that slouchy boyfriend jeans look great from the front but not from the back, and switch to a different style of denim. Enlist a friend to take 360 degree photos or set up a tripod at home.
Second, says Erlanger, inject a little color into your wardrobe. "People shouldn't be afraid of color!" she exclaims, but if you are, add it into your wardrobe in small accent doses: a bright scarf, colorful bag, or bright shoes can dress up neutrals without overpowering the eye. Again, the photo-taking can be helpful in determining what colors look best on you; try to take photos in natural and artificial light to see which hues flatter your skin and hair best.
Lastly, Erlanger encourages her clients to go for designs that feature a surprise of sorts. Whether an unexpected detail on the back of a dress or an interesting texture, like beading on pumps, those extra little touches can make all the difference in an outfit. Not only are they more interesting overall to the eye, they help to set you apart from all the other average outfits on the street.
Related posts: